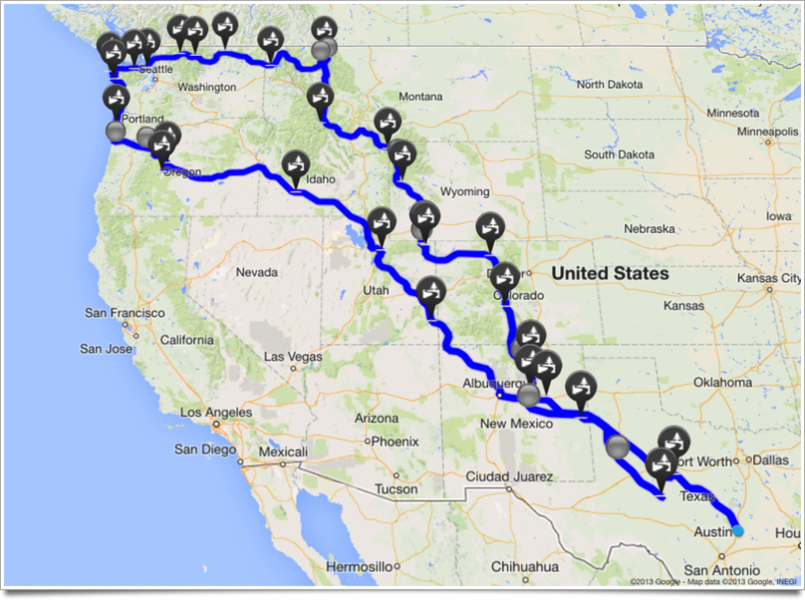 Oct 21, 2013
Here's the overall view of our summer/fall 2013 trip. Below are postings that have more details for each section. Additional info will be added as time passes.
Campgrounds:
Abilene State Park, TX
Oasis State Park, NM
Villanueva State Park, NM
Coyote Creek State Park, MM
Dumont Lake Campground, CO
Lodgepole Campground, UT
Canyon Rim Campground, UT
Granite Creek Campground, WY
Bakers Hole Campground, MT
Rambo Creek Campground, MT
Big Creek Campground, WY
Riley Creek Campground, ID
Bonaparte Lake Campground, WA
Klipchuck Campground, WA
North Cascade National Park - Newhalem Creek Campground, WA
Fort Townsend Campground, WA
Olympic National Park - Heart of the Hills Campground, WA
Olympic National Park - Mora Campground, WA
Olympic National Park - Kalaloch Campground, WA
Nehalem Bay State Park, OR
Tumalo State Park, OR
La Pine State Park, OR
When the government shutdown in October, we were in Bend, Oregon. Because of the shutdown, most of the types of campgrounds we like to camp in are closed. So we decided to head back to Austin as quickly as possible, which made for some longer travel days than we liked.
Taking the most direct route, we had stopovers at:
Three Island State Park near Glenns Ferry, ID
Jordanelle State Park near Park City, UT
K&A Chuckwagon in Monticello, UT
Santa Rosa State Park, NM
San Angelo State Park, TX
See more in Summer/Fall Road Trip 2013
---
All submitted comments are subject to approval. Comments date format is: day/month/year.
---
Our Travel Preferences
We generally like to travel without reservations and prefer public camping opportunities over commercial RV parks. Occasionally we make exceptions — however, not often. We're okay with dry-camping & boondocking, but sometimes hookups are nice. We also enjoy the unique overnight stops that Harvest Hosts and Boondockers Welcome have to offer. These preferences are the foundation for our "Overall Experience" ratings. A "yellow smiley face" doesn't necessarily mean that there's a pool or jacuzzi or whatever, but rather a stopover that we thoroughly enjoyed. While a "yellow neutral face" isn't a bad thing, we didn't get as excited about the campground as others. We think a "yellow frowny face" speaks for itself.
---
Be a Good Steward of our Public Lands
---
---
---
---
Based out of
Bend, OR
• Exploring North America