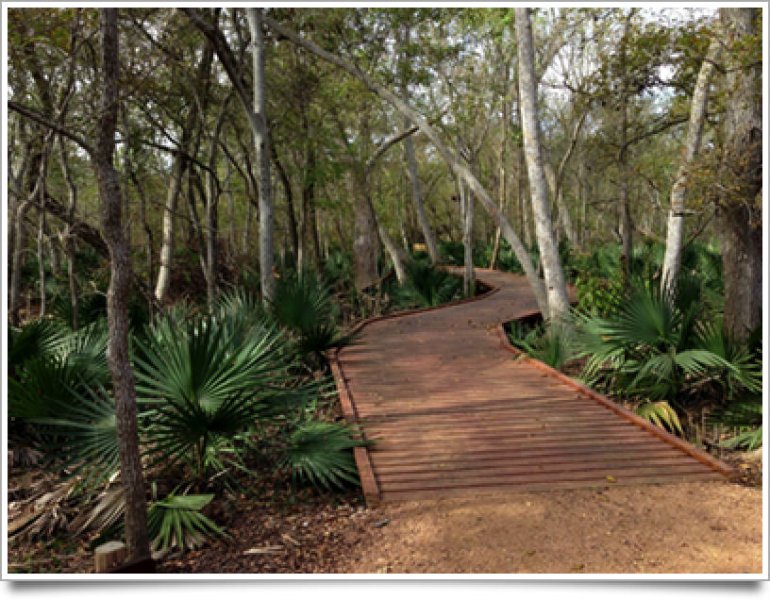 Nov 28, 2012
On our way home from a family gathering over Thanksgiving weekend, we decided to stop at Palmetto State Park. It's been years since Diana and I visited this park, and we have never camped here because of its proximity to home. Also, because the trailer's black/gray tanks were approaching full from weekend use and we would need to find a dump station soon, stopping at the park on the way home for a night was the practical thing to do.
In 1933, 198 acres of Ottine Swamp were purchased by the State of Texas, and it was renamed Palmetto State Park. Palmetto State Park is unique because of it's strands of dwarf palmetto palms found in the park's ephemeral swamp. These palms are common in East and Southeast Texas, but these strands are one of the most western. There's local folklore about the Ottine Swamp Monster that lived in the area, and an alleged picture of the monster is in the park office. During a weekend each October, the park hosts the Ottine Swamp Fest, complete with a Swamp Monster Walk on the Palmetto Trail.
The San Marcos River separates the tent camping and RV camping areas in the park, so there isn't a feeling of congestion as in some campgrounds. Most RV sites are fairly close together, but we were lucky enough to get an end site next to a hiking trail with lots of space around it.
There are about five miles of easy hiking trails, with a crushed granite surface, throughout the park. Boardwalks have been constructed in the trail sections that go through the swampy areas where the strands of palmetto are most dense. Currently, Texas is still experiencing drought conditions, and the swamp areas were dry when we visited.
Originally we had planned on staying just one night, but because we were enjoying the park's trails and had a nice spacious RV site, we decided to stay an extra night.
The whole time we were at the park, the park staff was working on unclogging the dump station. Apparently, someone put something that they shouldn't have down the drain and clogged the system. As we were hooking up and preparing to leave, I noticed that the park staff was bringing in the "big gun" — a backhoe loader! Fortunately for us, Lockhart State Park is on the way home, so we still had a shot a finding a dump station.
---
All submitted comments are subject to approval. Comments date format is: day/month/year.
---