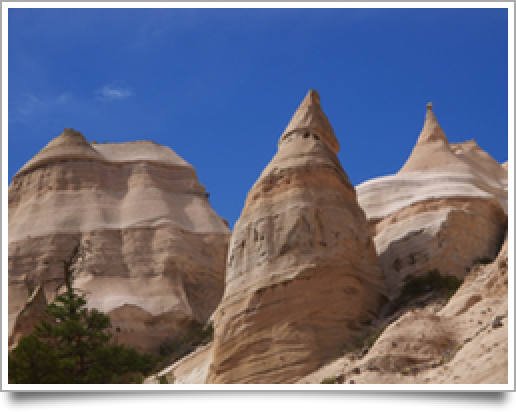 Sep 29, 2012
While camping at the Cochiti Recreation Area (army corps of engineers campground) in Peña Blanca, New Mexico, about 35 minutes from Santa Fe, we visited Kasha-Katuwe Tent Rocks National Monument. Kasha-Katuwe Tent Rocks National Monument. Not knowing what to expect, we were pleasantly surprised by the rock formations found here. The tent-shaped formations were completely different from anything we had experienced in New Mexico before and had a mystical appearance to them.
Kasha-Katuwe Tent Rocks
---
Kasha-Katuwe does not have an extensive trail system, but the few miles they do have are well maintained. The Cave Loop Trail is 1.2 miles long, and the bit more difficult Canyon Trail is 1.5 miles, one-way into a narrow canyon with a steep climb near the end of the trail that goes to the mesa top. From the top of the mesa, there are exceptional views of the Sandia, Jemez, and Sangre de Cristo mountains. The hike through the narrow canyon is a photographer's dream come true with unique shapes that offer an array of light, shadows, and textures to work with.
We were camping in the area, so it was a short drive to Kasha-Katuwe. If you are visiting Santa Fe, Kasha-Katuwe is not far away and would be worth your time.
For more info about Kasha-Katuwe Tent Rocks National Monument visit the Bureau of Land Management's website.
---
All submitted comments are subject to approval. Comments date format is: day/month/year.
---