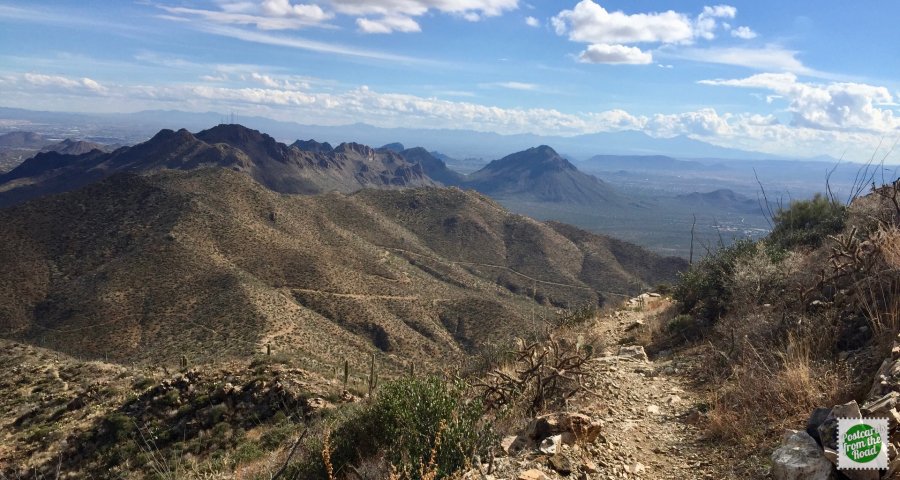 Jan 22, 2015
Top Photo: View of Tucson Mountain Park from the trail. Lots of good hikes can be found here.
"After two weeks out of this park, we decided to return for another week. We just love the Tucson area!"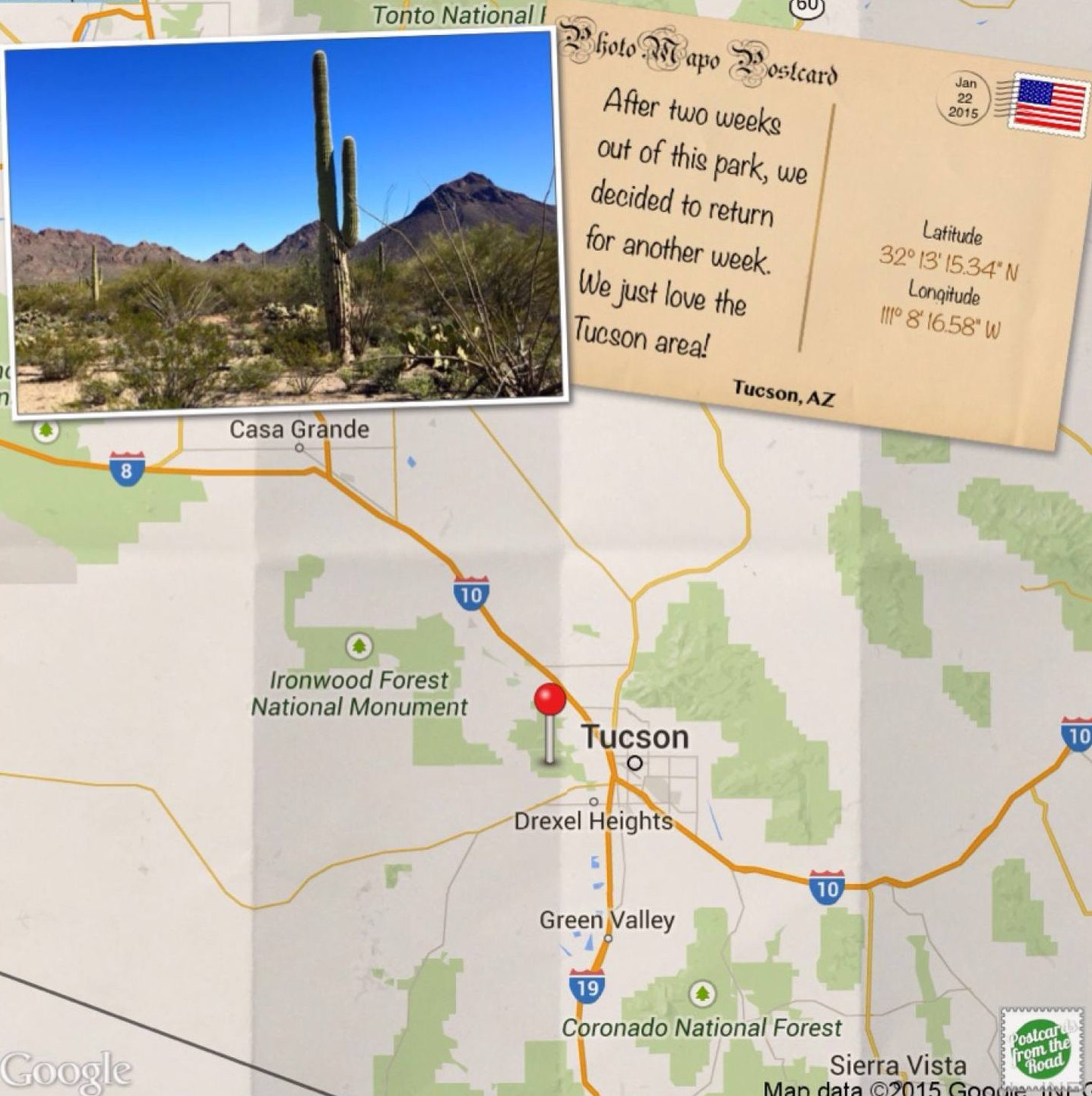 Gilbert Ray Campground #43A, this site has electric with water nearby, dump station available, 138 total sites, 2,630 ft elevation. Jan 22th - 29th.

Overall Experience: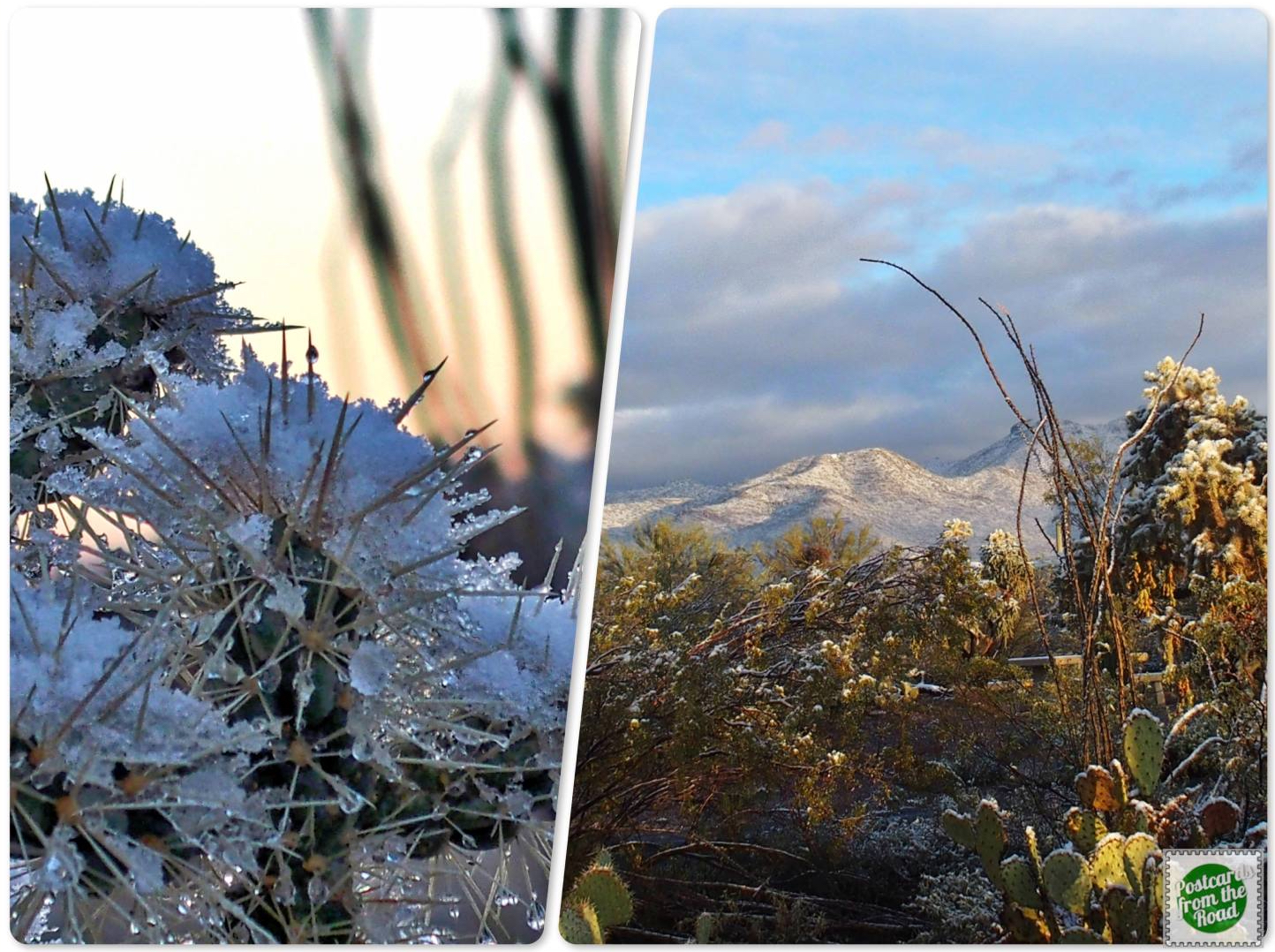 We were treated to a special treat on New Year's Eve -- Snow in the desert! We woke up the next morning with a light dusting of snow on everything in Tucson Mountain Park.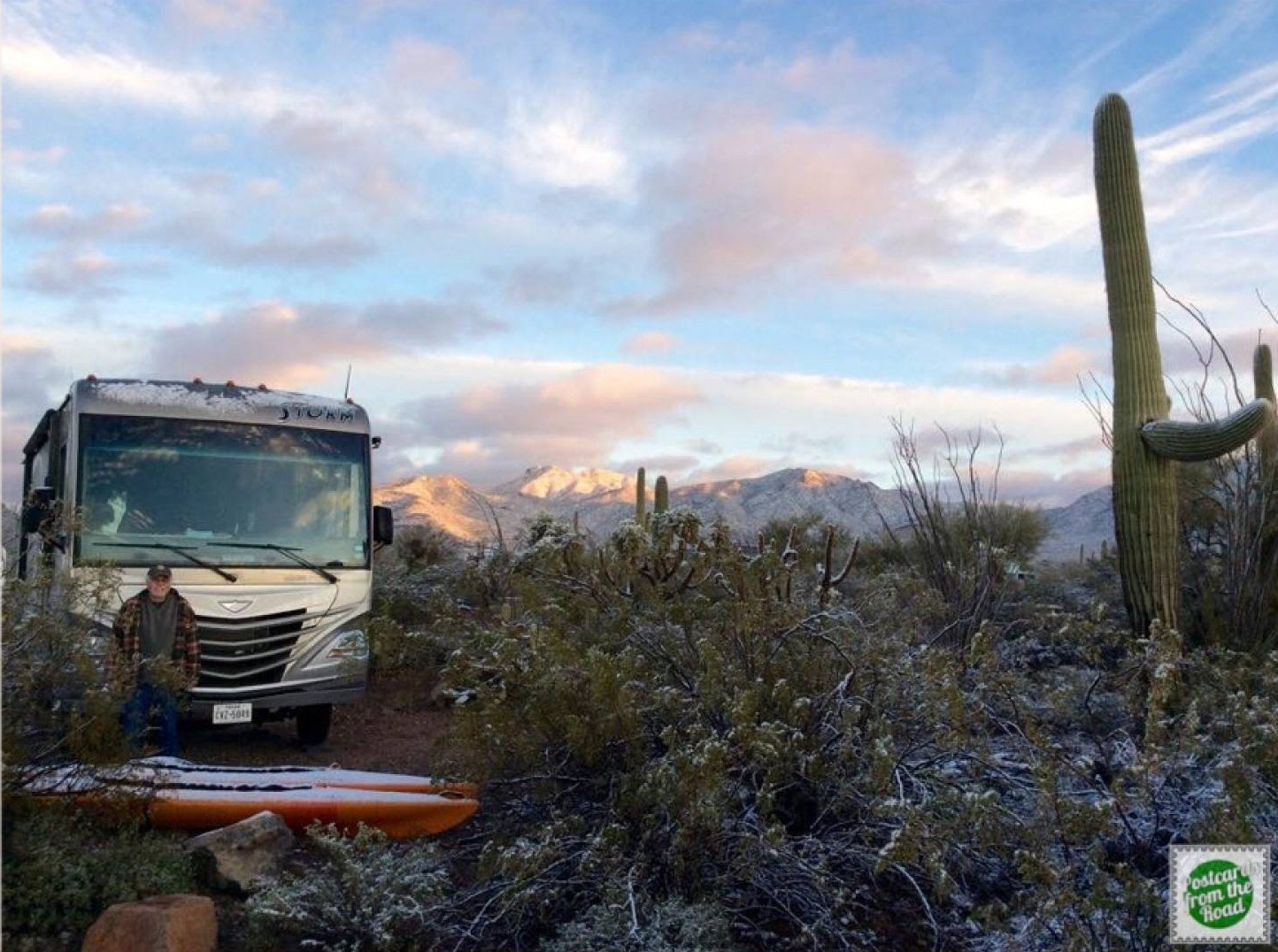 Local Flavor – Area Businesses We Enjoyed & Recommend
• Barrio Brewing Company
• Cafe Poca Cosa Well worth the visit.
• Gentle Ben's Brewing Company
• Dragoon Brewing Company
• El Guero Canelo We thought that they had the best Sonoran Hot Dogs.
Cafe Poca Cosa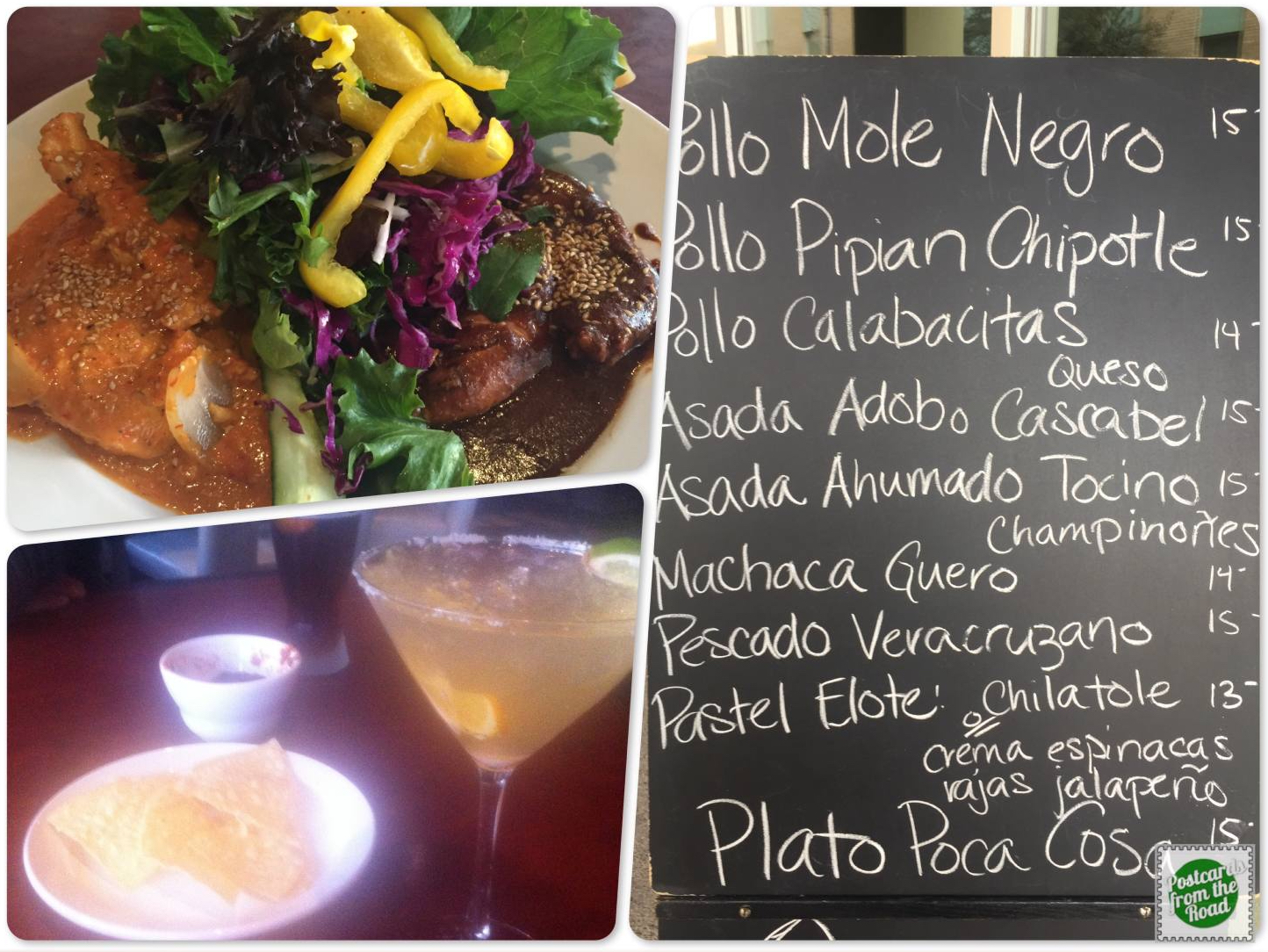 Each day Cafe Poca Cosa serves a different menu that's listed on a chalkboard. Lots of fresh ingredients, tasty sauces, and a pleasing presentation of each dish. The Plato Poca Cosa special, which Diana ordered, was a sampling of three of the dishes from the chef's chalkboard. Rob't had his order split: half Pollo Mole Negro and half Pollo Pipian Chipotle. Both our dishes were absolutely delicious. We were told to go for lunch — same menu items but priced a little less.
Cafe Poca Cosa 110 E Pennington St, Tucson, AZ
Sonoran Hot Dogs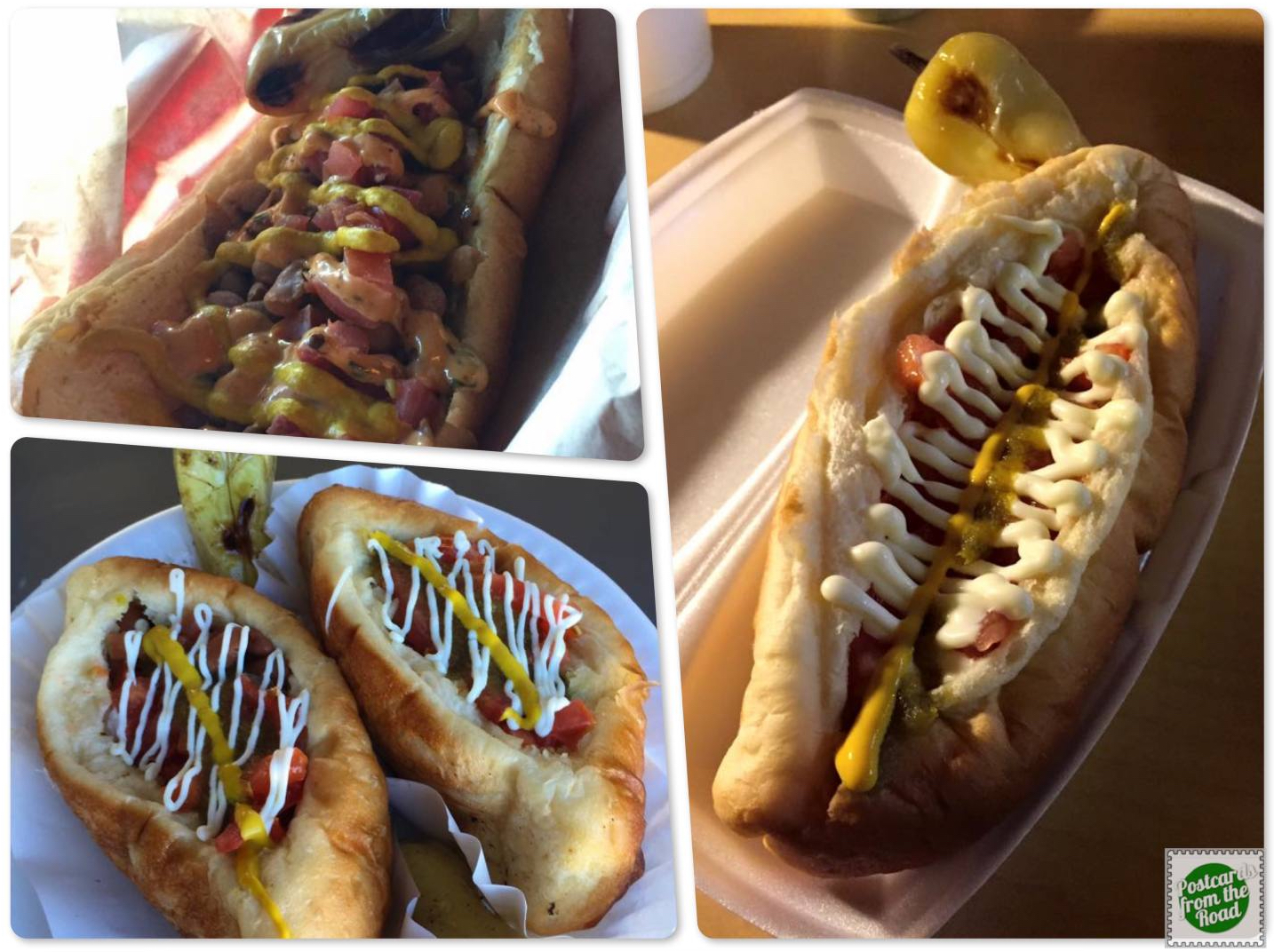 Sonoran Hot Dogs. Clockwise starting upper left: Barrio Brewing Company, BK Carne Asada & Hot Dogs, El Guero Canelo.
We have heard of Sonoran Hot Dogs but never tried one. So when our neighbors at Gilbert Ray Campground started raving about them, we decided that we needed to head into Tucson and give them a try. So what is a Sonoran Hot Dog? It's a bacon-wrapped hot dog grilled, put inside a bolillo (traditional Mexican roll), and layered with pinto beans, diced tomatoes, mayonnaise, mustard, ketchup, jalapeño sauce, and onions with a grilled yellow pepper on the side.
Our first stop was BK Carne Asada & Hot Dogs on 12th Ave. It had the appearance of a fast-food restaurant. Besides the hot dog, Rob't ordered a pollo taco (grilled chicken). All the food was prepared in the kitchen except for the hot dogs, which were cooked outdoors on a huge grill. Our first experience with a Sonoran Hot Dog was a tad disappointing. Although we enjoyed it, we felt it lacked the bacon flavor we were expecting. It turns out that this bolillo was the largest of the three we sampled, although it wasn't filled with as many fixings as the others. It was well past dark, so we decided to head back to the campground.
For lunch the next day, we decided to go to El Guero Canelo and sample another Sonoran Hot Dog (they created the original Sonoran Hot Dog). We chose to go to their south location, which was also on 12th Ave. Right down from BK's. The place's overall appearance was that it once was a small stand, but now has an attached large room with glass walls. The place had a kind of basic setup but with a comfortable feel. When we got our hot dogs, the bolillo was a tad smaller than BK's, but overall with more fillings, so it felt much heavier. They were very flavorful, and we weren't disappointed. At this point, we thought that we found a clear winner.
So off to Costco we went to stock up on supplies. Our planned stop after shopping was Barrio Brewing Company. Who doesn't need a good beer after shopping? Looking at their menu, we discover that they also have a Sonoran Hot Dog. Oh, we just had to go for another hot dog along with their "Fire Starter" burger. We split both between us. This hot dog was also loaded and very good but didn't surpass El Guero Canelo's one because their bolillo was not quite as good.
Will we go out and sample more Sonoran Hot Dogs? We don't think so, but you never know.
A few weeks ago, when we were in the Tucson area, we wanted to visit Dragoon Brewing Company, but somehow it just didn't work out. So on this visit, we made it a priority.
The new taproom is spacious with a good selection of their beers. You can order a sample tray with four beers of your choice, or you can order a pint of your favorite brew. While we were there, we tried: Dragoon IPA, Unihopper with El Dorado hops, Double Red IPA, and a cast conditioned BICAS Brown. All were very tasty!
Dragoon Brewing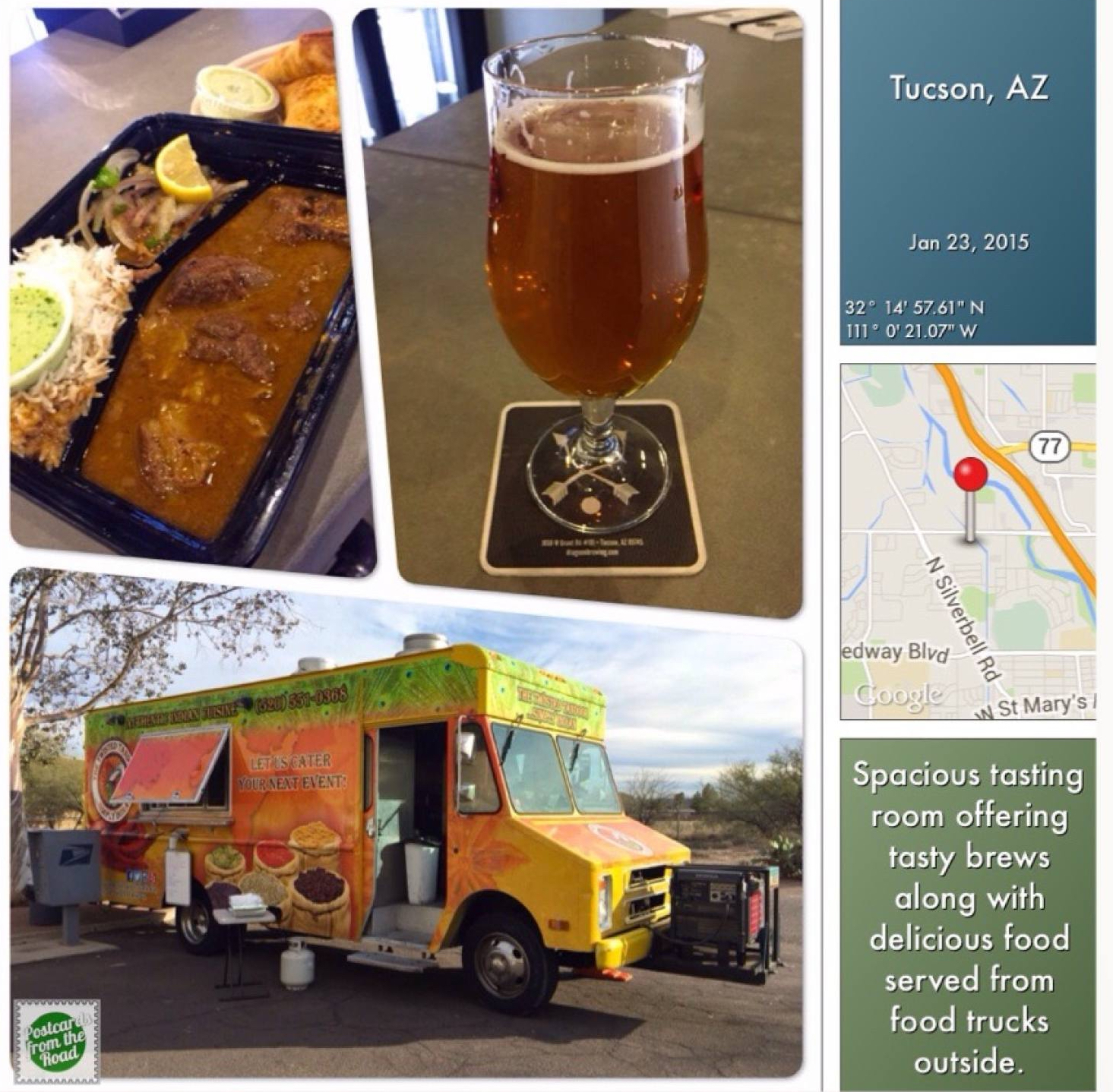 Dragoon Brewing doesn't serve food but has different food trucks visit (check their website for availability). On our visit, The Twisted Tandoor was serving tasty Indian food. We ordered and enjoyed lamb curry, chicken tikka masala, and samosas.
If you are in the area, Dragoon Brewing is worth seeking out.
Dragoon Brewing Company 1859 W Grant Rd, Tucson, AZ
Also: BIOSPHERE 2 • TUCSON MOUNTAIN PARK (2014)
---
All submitted comments are subject to approval. Comments date format is: day/month/year.
---