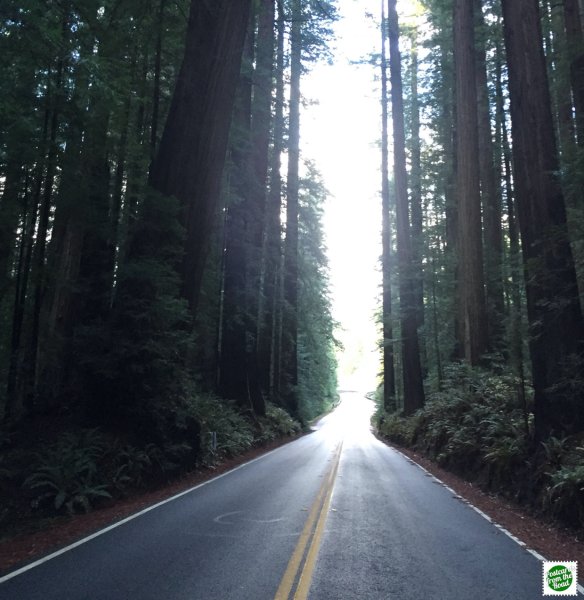 Dec 31, 2014
We've been on the road full-timing since February 1st and are now back in Arizona. This is the final update for our 2014 maps. Watch for a new 2015 map and new adventures!
Stops on this page are list from oldest to most recent: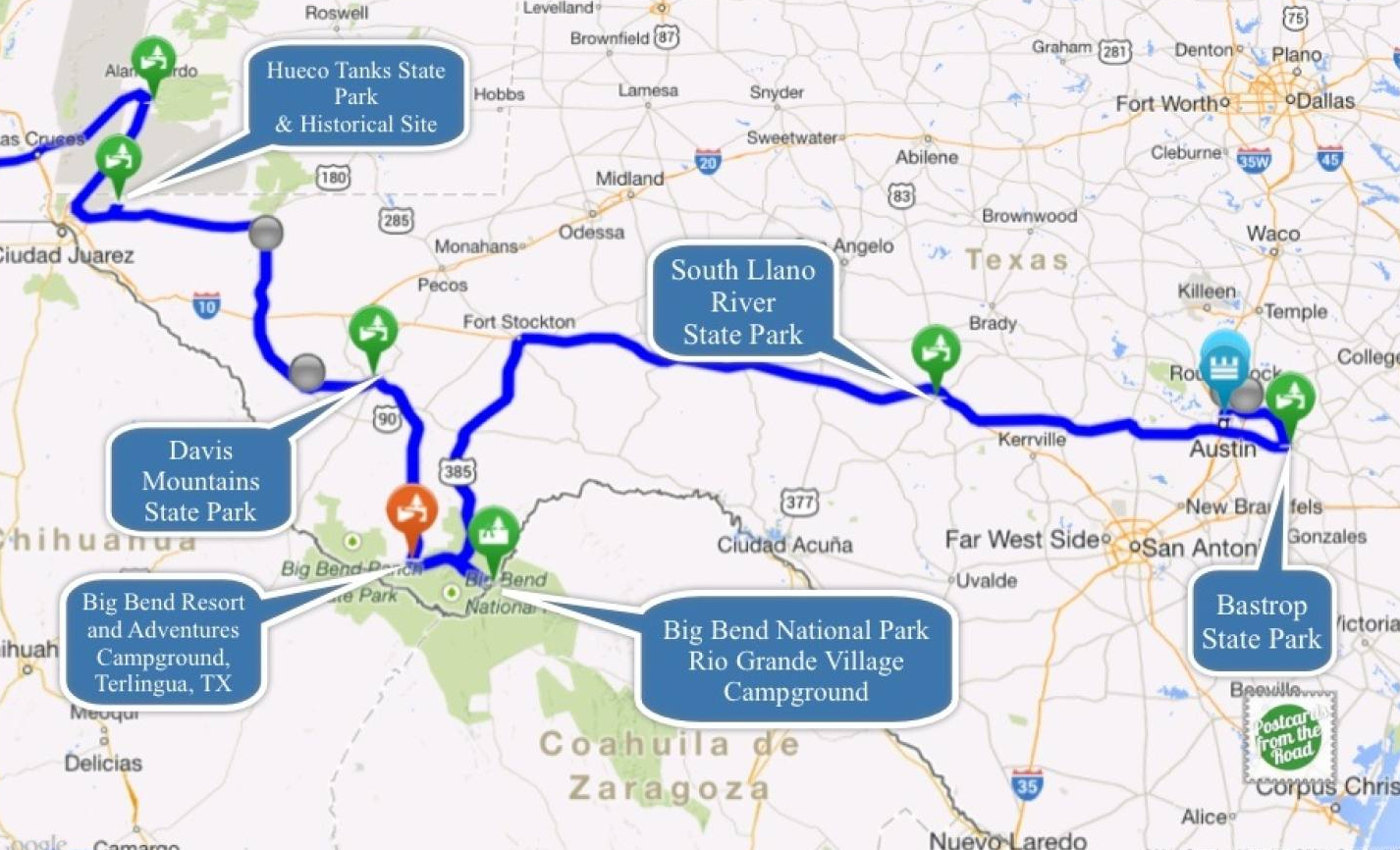 Campgrounds in Texas during our travels in February & March.
Bastrop State Park, Bastrop, TX; South Llano River State Park near Junction, TX; Rio Grande Village in Big Bend National Park, TX; Big Bend Resort & Adventure, Terlingua, TX; Davis Mountain State Park near Fort Davis, TX; Hueco Tanks State Park & State Historical Site near El Paso, TX.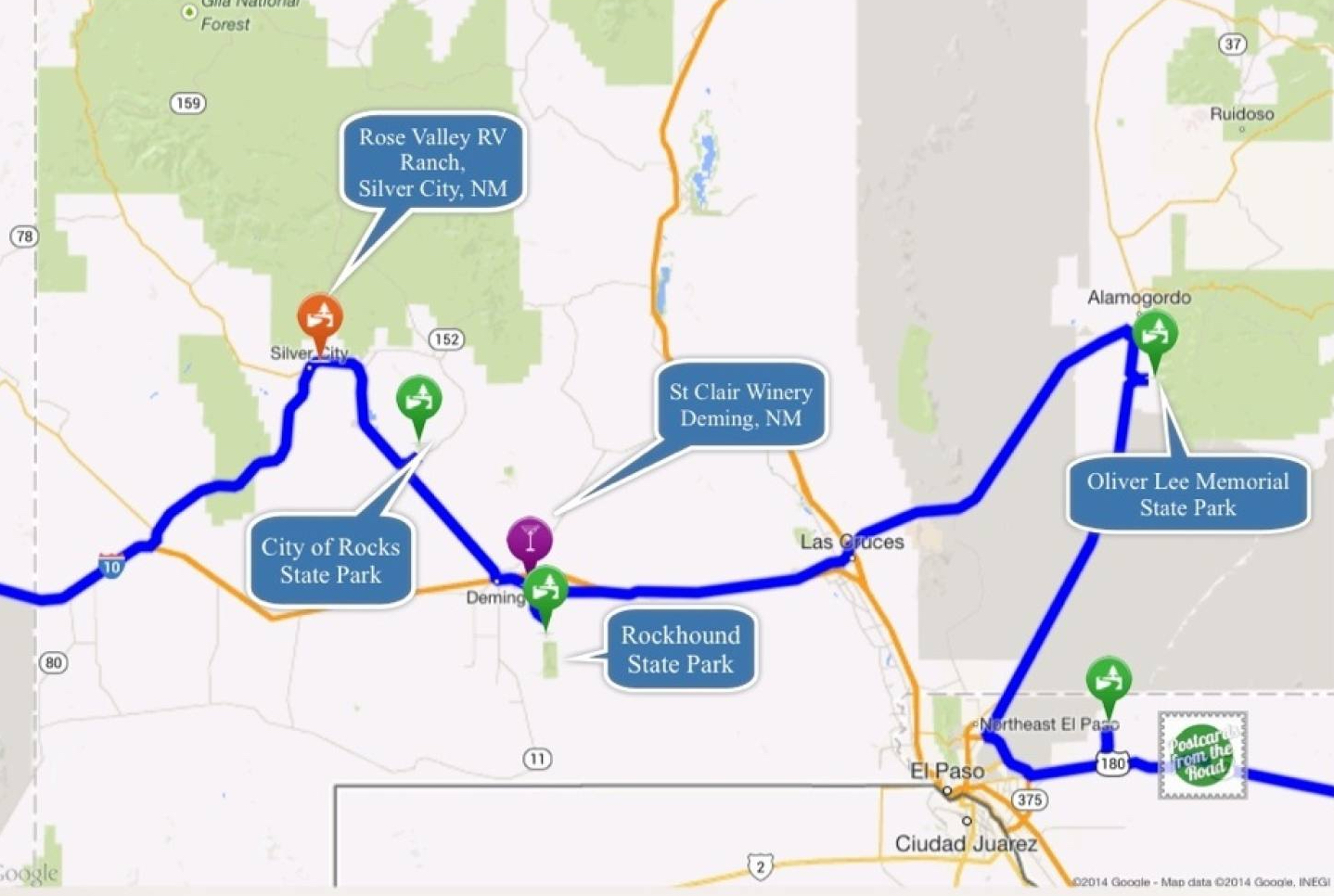 Campgrounds & Stopovers in New Mexico during our travels in March.
Oliver Lee Memorial State Park near Alamogordo, NM; Rockhound State Park near Deming, NM; St Clair Winery, Deming, NM (Harvest Hosts); City of Rocks State Park, NM; Rose Valley RV Ranch, Silver City, NM.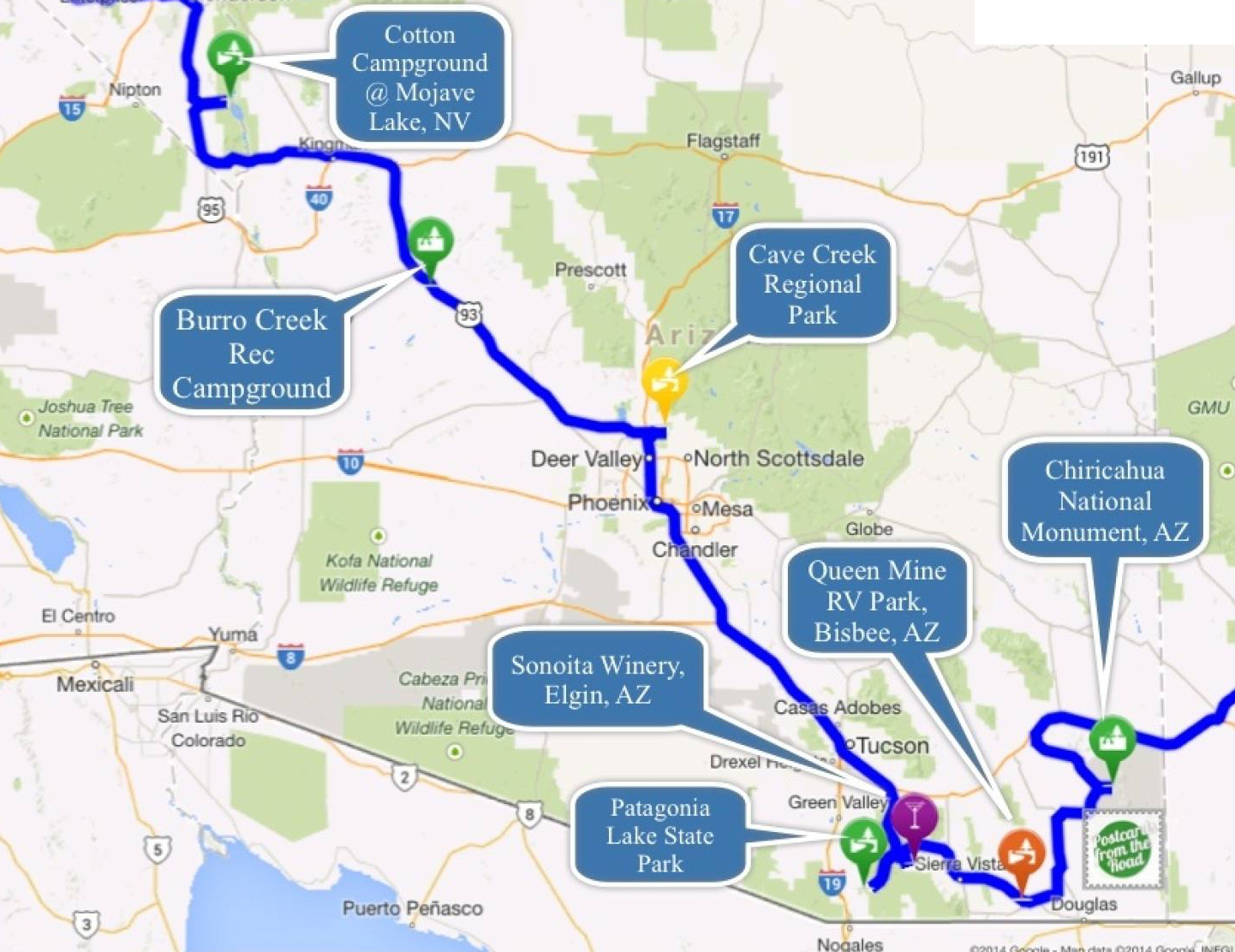 Campgrounds in Arizona & Nevada during our travels in April.
Chiricahua National Monument, near Wilcox, AZ; Queen Mine RV Park, Bisbee, AZ; Patagonia Lake State Park, Patagonia, AZ; Sonoita Vineyards, Elgin, AZ; Cave Creek Regional Park, Cave Creek, AZ; Burro Creek Rec Area Campground near Wickieup, AZ.
Lake Mead National Rec Area - Cottonwood Cove Campground, Boulder City, NV.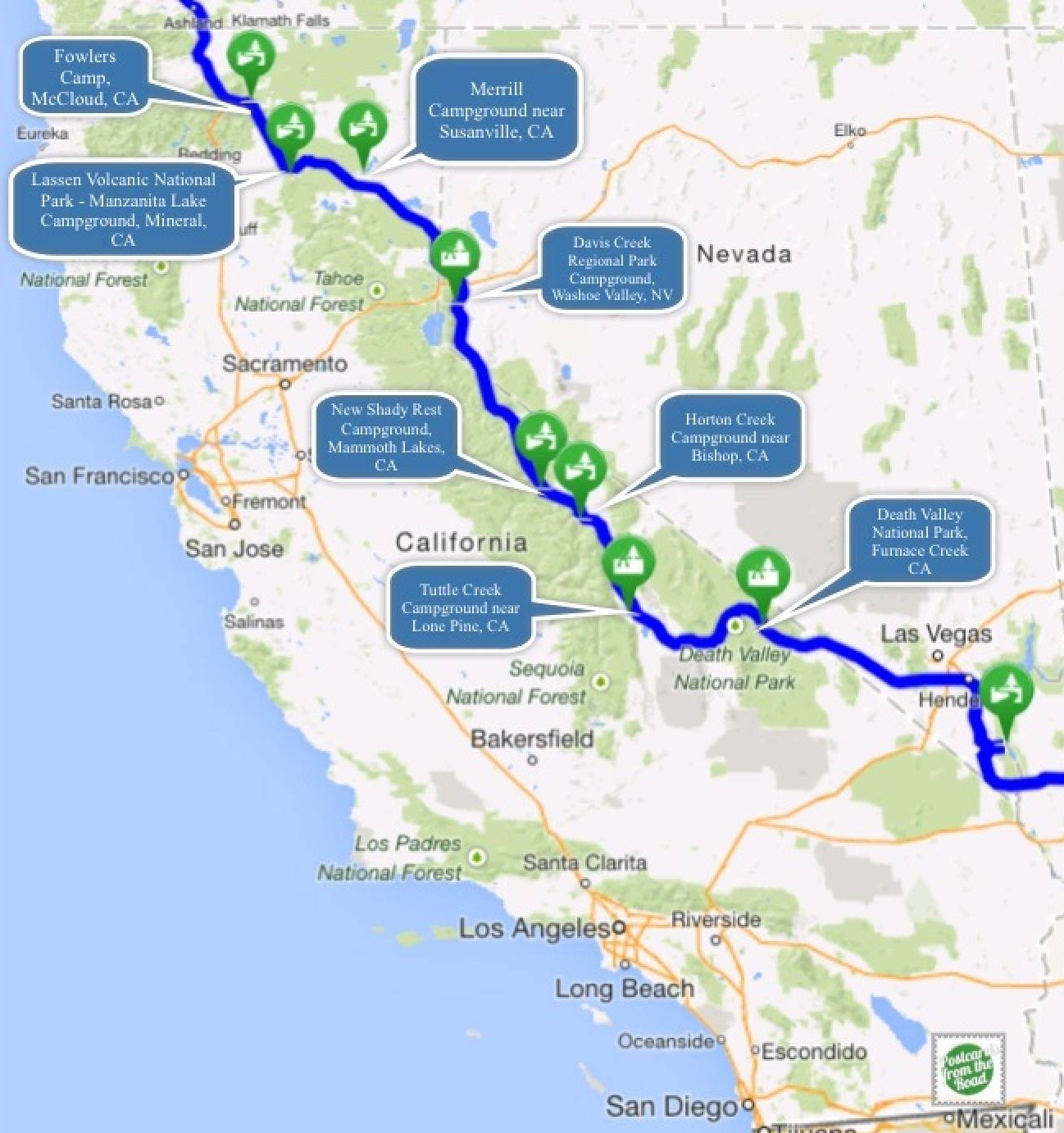 Campgrounds in California during our travels in May & June.
Death Valley National Park, Furnace Creek, CA; Tuttle Creek Campground near Lone Pine, CA; Horton Creek Campground near Bishop, CA; New Shady Rest Campground, Mammoth Lakes, CA; Davis Creek Regional Park Campground near Washoe Valley, NV; Merrill Campground near Susanville, CA; Lassen Volcanic National Park - Manzanita Lake Campground, Mineral, CA; Fowlers Camp near McCloud, CA.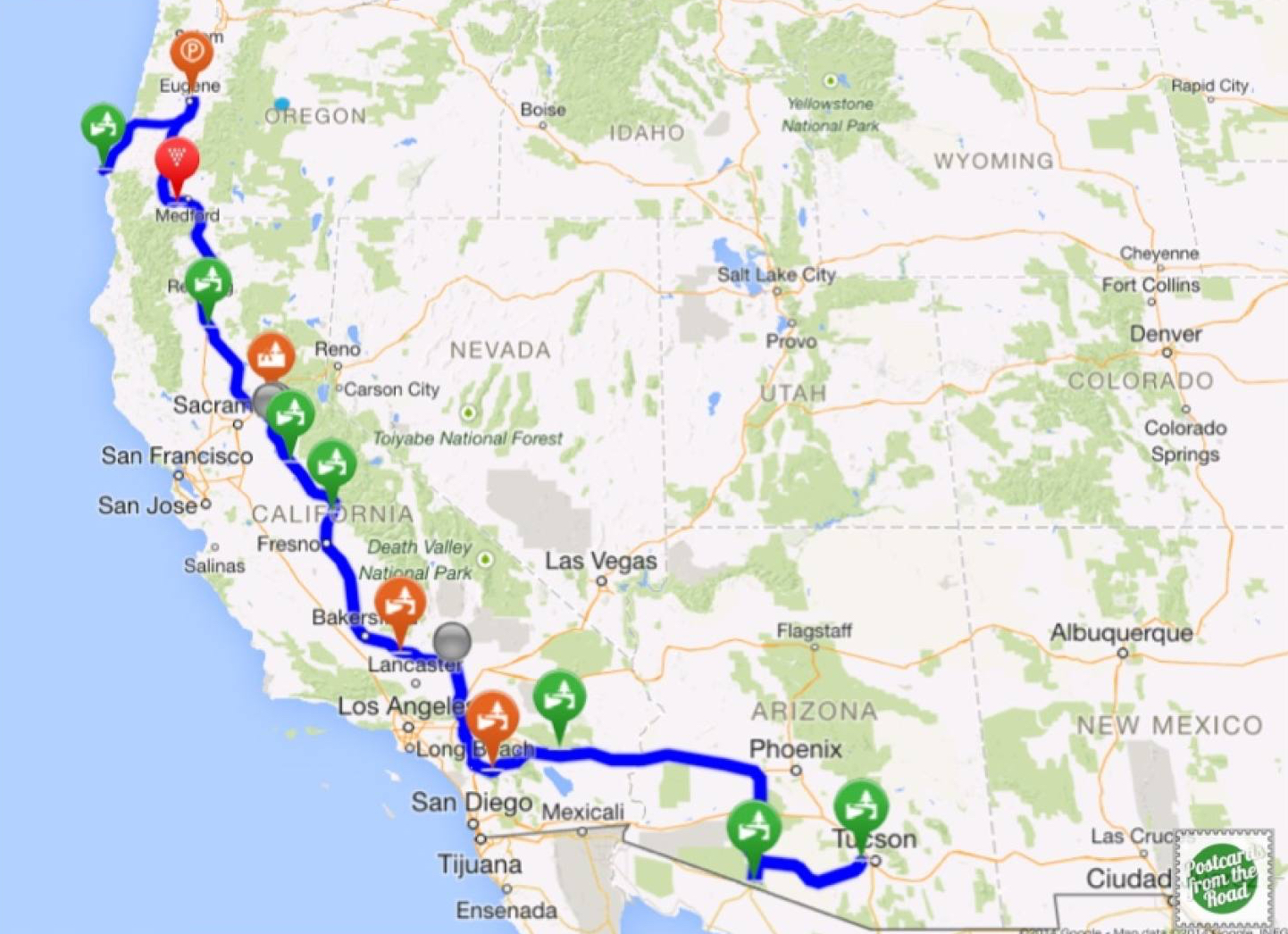 June - December 2014. This map excludes summer travel in Oregon, but all stops are list below.
River Park RV Resort, Grants Pass, OR; Allied Recreation Group, Coberg, OR; Bend-Sunriver Thousand Trails Campground, Bend, OR; Jeld-Wen Family Stay Park, Bend, OR; Crown Villa RV Resort, Bend, OR; Whalers Rest Thousand Trails, Newport, OR; South Jetty Thousand Trails, Florence, OR; Cape Blanco State Park, Port Orford, OR; Allied Recreation Group (2nd visit), Coberg, OR; Longsword Vineyard near Jacksonville, OR.
Sycamore Grove Campground, Red Bluff, CA; Black Oak Campground (private), Cool, CA; Tuttletown Recreation Area, Sonora, CA; Park of the Sierras, Coarsegold, CA; Mountain Valley RV Park, Tehachapi, CA; Jojoba Hills SKP Co-op Resort, Aguanga, CA; Joshua Tree National Park, Cottonwood Campground, CA.
Organ Pipe Cactus National Monument, Twin Peaks Campground, AZ; Tucson Mountain Park, Gilbert Ray Campground near Tucson, AZ.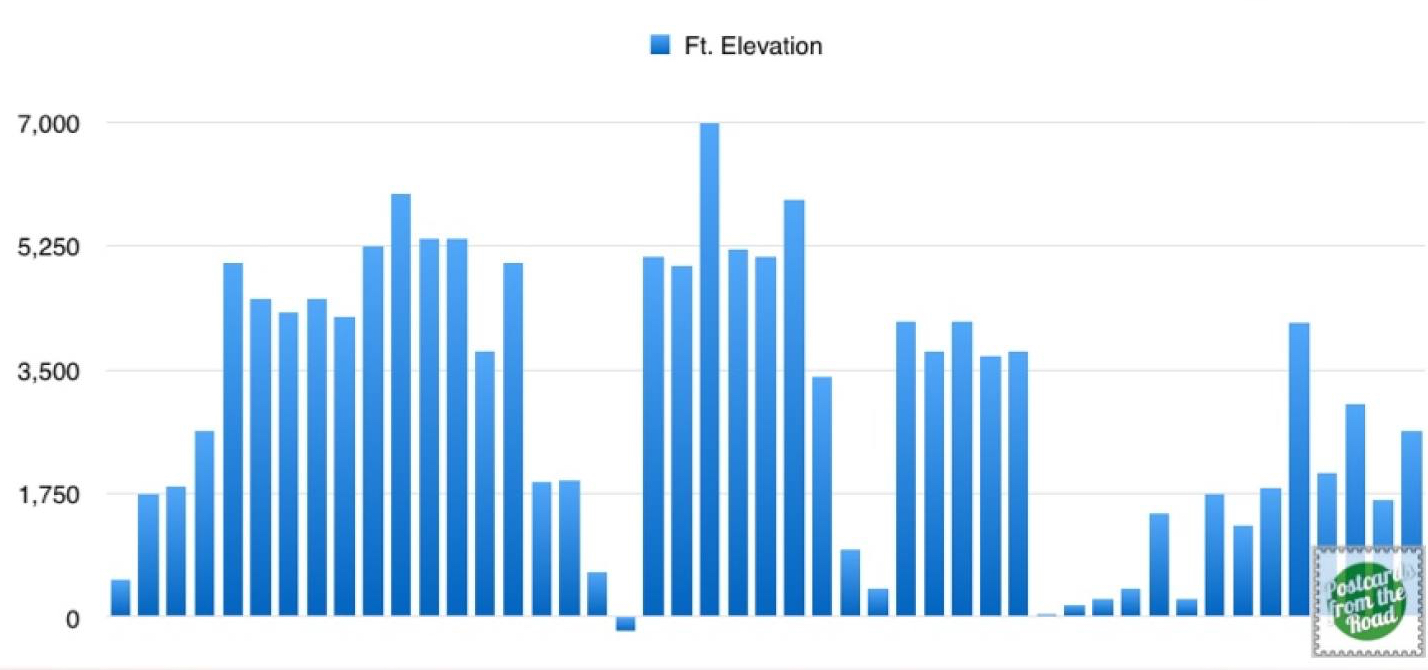 We like to keep a record of the elevation of each campground or RV park we visit. As you can see from the above chart, 2014 definitely had its ups and downs. The extremes on the chart are at Furnace Creek Campground in Death Valley at -196 feet below sea level, and New Shady Rest Campground in Mammoth Lakes, CA, at 7,000 feet.
That's it, folks. 2014 completed!
---
If you have a comment you like to share, please send us a
message
.
---