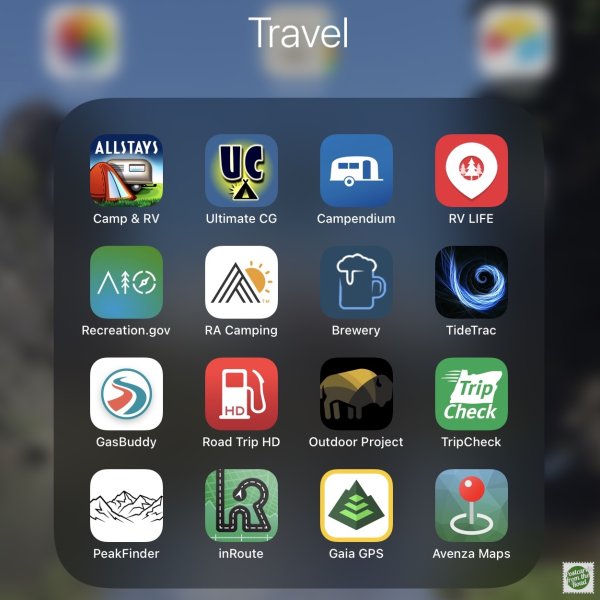 Jan 09, 2021
We first published this post on February 6, 2014, and then updated it in July 2017. As things have evolved and new apps were developed, we decided that it was time to refresh.
This update includes most of the apps we rely on when traveling and for trip planning. Since we have iOS devices, these apps were downloaded from Apple's App Store, but most can also be found in the Google Play store.
The top of our list is "Allstays Camp & RV." We have used this app since our Casita days, and it's the most used tool in our arsenal. We utilize it for planning trips across the country; many times, it is in use while driving and looking for a new campsite (Diana is using the app, Rob't is driving). It has it all National, State/Provincial, County, City Campgrounds, and private RV parks. Other features include Low Clearance, RV Businesses, RV Dumps, Rest Areas, Stores (i.e., Costco, Walmart, etc.), Propane Suppliers, etc. The many features of this app can be filtered, so you easily find exactly what you are looking for.
An app we were later introduced to and has become one of our favorites is the "Ultimate Public Campgrounds App." This app features information about publicly-owned, non-commercial campgrounds across the lower 48 states. Its data is based on the web-based Ultimate US Public Campground Project.
The newest addition to our fave list is Campendium. Besides having excellent reviews of campgrounds, there's information about cell coverage at each campground. This app is also a useful tool for finding dispersed camping. The problem is that their users rate even the nastiest dispersed camp spots five start, which is not useful.
• The Dyrt has moved into our fave list.
Other apps we use regularly are:
RV Life — RV GPS & Campgrounds We have found their GPS Navigation to be quite handy when driving an RV. Turns out that there better options for an app GPS.
Recreation.gov We hate reservations, but...
Reserve America We hate reservations, but...
Brewery Passport Now shut down. We're testing Brewee as a replacement. It's always fun finding new brews when traveling.
TideTrac This is a handy app when on the coast.
GasBuddy Aids in finding reasonably priced gas.
Road Trip MPG — Fuel & maintenance tracking.
Outdoor Project Not an app, but rather a website. A good source for hikes & other outdoor activates. They have partnering with onX to create onX Backcountry.
TripCheck A must-have app if living in or traveling to Oregon, particularly in the winter.
PeakFinder Very handy in the mountains.
inRoute Planner Plan routes using weather, elevations, curves, and more.
Gaia GPS Use to hike, hunt, camp, ski, & explore the backroads. They offer an extensive list of layers that can be added.
Avenza Maps Another excellent GPS app. One of our favorite features is the use of geofence maps downloaded from the Forest Service.
Also, we are currently using BaseMap & have used onX Hunt. Both are excellent at identifying public land boundaries but are hunting centric. We also experimented with US Public Lands app, but it found it totally useless.
We currently have T-Mobile on our iPhones, Verizon on our Jetpack MiFi, as well as AT&T on the modem in our F-150. Plus, we had success using Wilson's weBoost signal booster. So if there is cell service available, we have it covered.
We are sure there are other useful apps out there waiting to be discovered, but for now, these are our "go-to" apps.
---
All submitted comments are subject to approval. Comments date format is: day/month/year.
---