Above photo — Escape 5.0TA (borrowed photo.)
There are changes on the horizon! After many conversations, we decided that it is time for us to downsize from our current coach.
Original Posting — October 11
We studied all the smaller options: Class B vans, small Class C's (sometimes referred to as B+), Truck Campers, & Travel Trailers (both bumper pulls & small 5th wheels). After admiring Escape Trailers for many years & seeing one recently while camping at Delintment Lake, we decided to check them out. Bingo! Their small 5th wheel, Escape 5.0TA, was just what we were looking for. October 5th, we had a scheduled Zoom Tour with one of their Sales Consultants, which allowed us to examine every nook and cranny of the trailer. Earlier in September, we put down a deposit & then learned that our construction completion date would be September 2021. That date has since been moved up to March 2021, which should give us plenty of time to sell our coach. We're quite excited.
Update — December 15
This process has just moved to a new level. Today, we made the final review of our build sheet, electronically signed, and submitted it. We now move into the production phase, where Escape Trailer starts ordering components for our build, making sure they will be available when construction begins. When Escape actually begins construction of our unit, we will receive daily photos of the progress. How exciting is that? Our completion date is still March 17, 2021.
Our next major decision is how we will take delivery. Escape Trailer is located in Chilliwack, BC, Canada. We have several choices. If the border is back open by March, we can go to Chilliwack for orientation & delivery. Or we can take delivery in Sumas, WA, at Bob's Burger & Brew on the U.S. side of the border. Think of how fun it would be having our first burgers and brews in our brand new trailer just after taking possession. A final choice is the option to have it delivered by an 18 wheel truck & flatbed trailer. According to Escape's website, the nearest delivery city to us in Eugene, but our configuration specialist suggested that delivery to Bend might be an option. At the moment, delivery to Bend seems the most appealing to us.
To see our final build sheet, just scroll down the page.
UPDATE — NOVEMBER 25
We're having fun making decisions on the options for our trailer. We thought we had made the final choice on the interior color scheme. But, after viewing several videos and looking at photos of some finished Escape interiors, we nixed what we thought we would like for the countertop. Our new first choice is now Mineral Jet.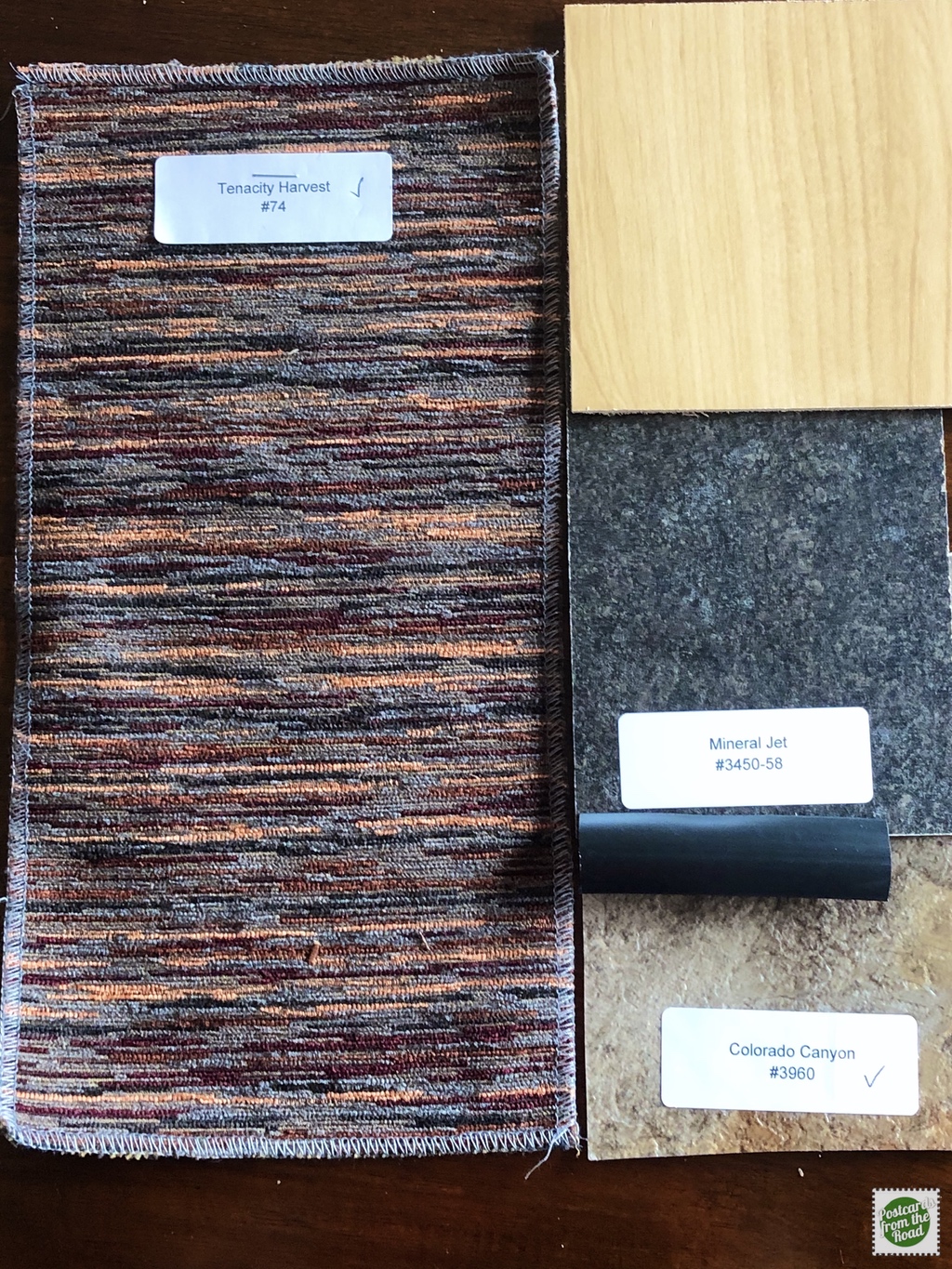 New finalists for the interior: Countertop — Mineral Jet; Trim — black; Floor — Colorado Canyon; Fabric — Tenacity Harvest. And it appears that maple is at the top of the interior.
As we continue working through this process, we still have to make decisions on small but essential things, such as the location of additional captain reading lights, other 12V/USB & 120V outlet locations (besides the standard), extra counter extensions (one is already on our build sheet), location of the exterior shower, and optional reinforced walls (if mounting any heavy items such as a TV or any sort of storage system the wall needs to supported).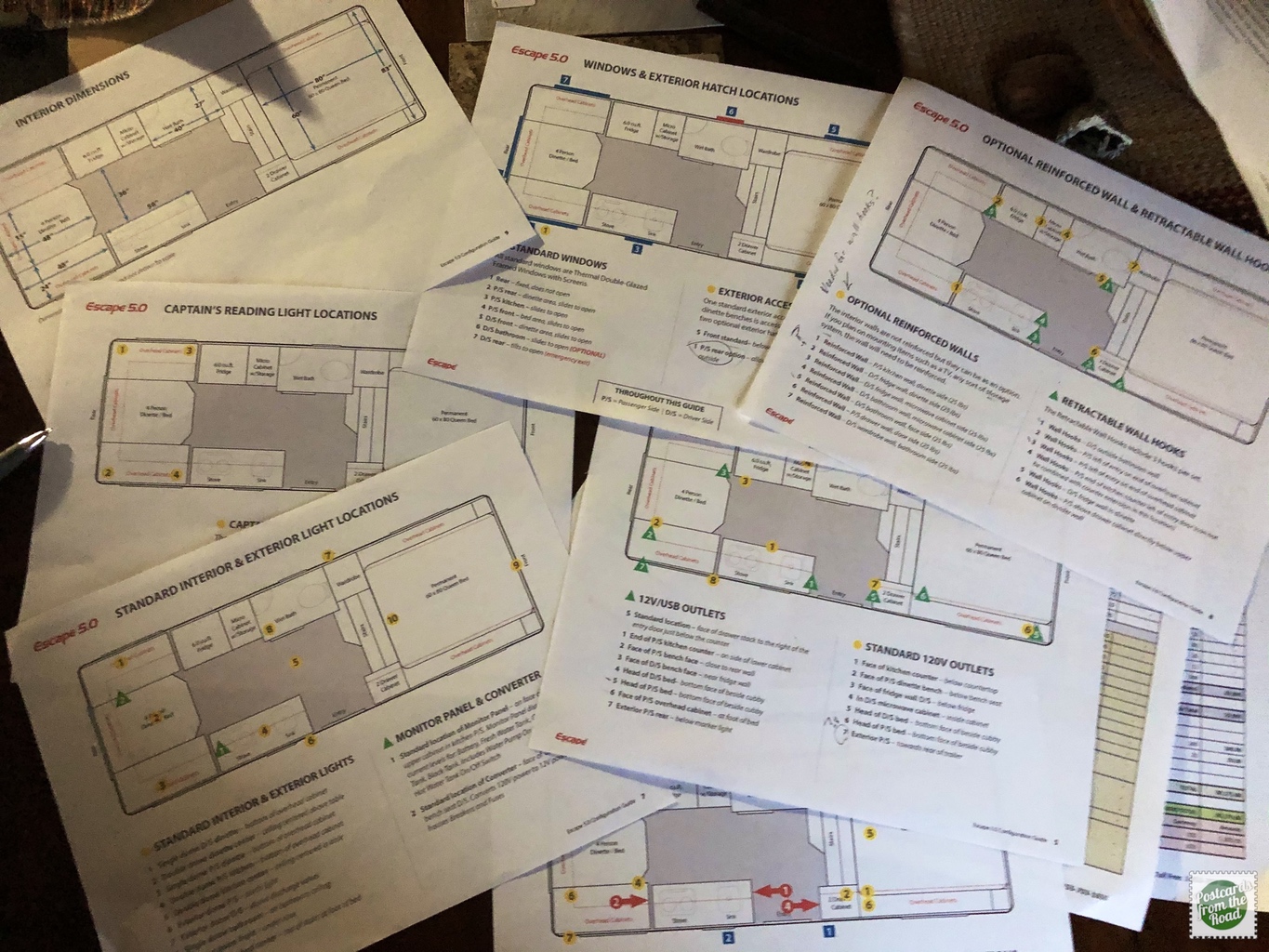 Lots of informative configuration sheets.
UPDATE — NOVEMBER 19
The cool thing about Escape trailers is that they offer a base build in each of their models and then offer a long list of options that the buyer can choose from. A month before your personalized "build sheet" is due, work on the sheet begins with an assigned Configuration Specialist. Our build sheet is due on December 17th, which is three months before our final completion date, and we had our first conference call with our configuration specialist this past Thursday, Nov 17th (Our second conference was on Dec 4th).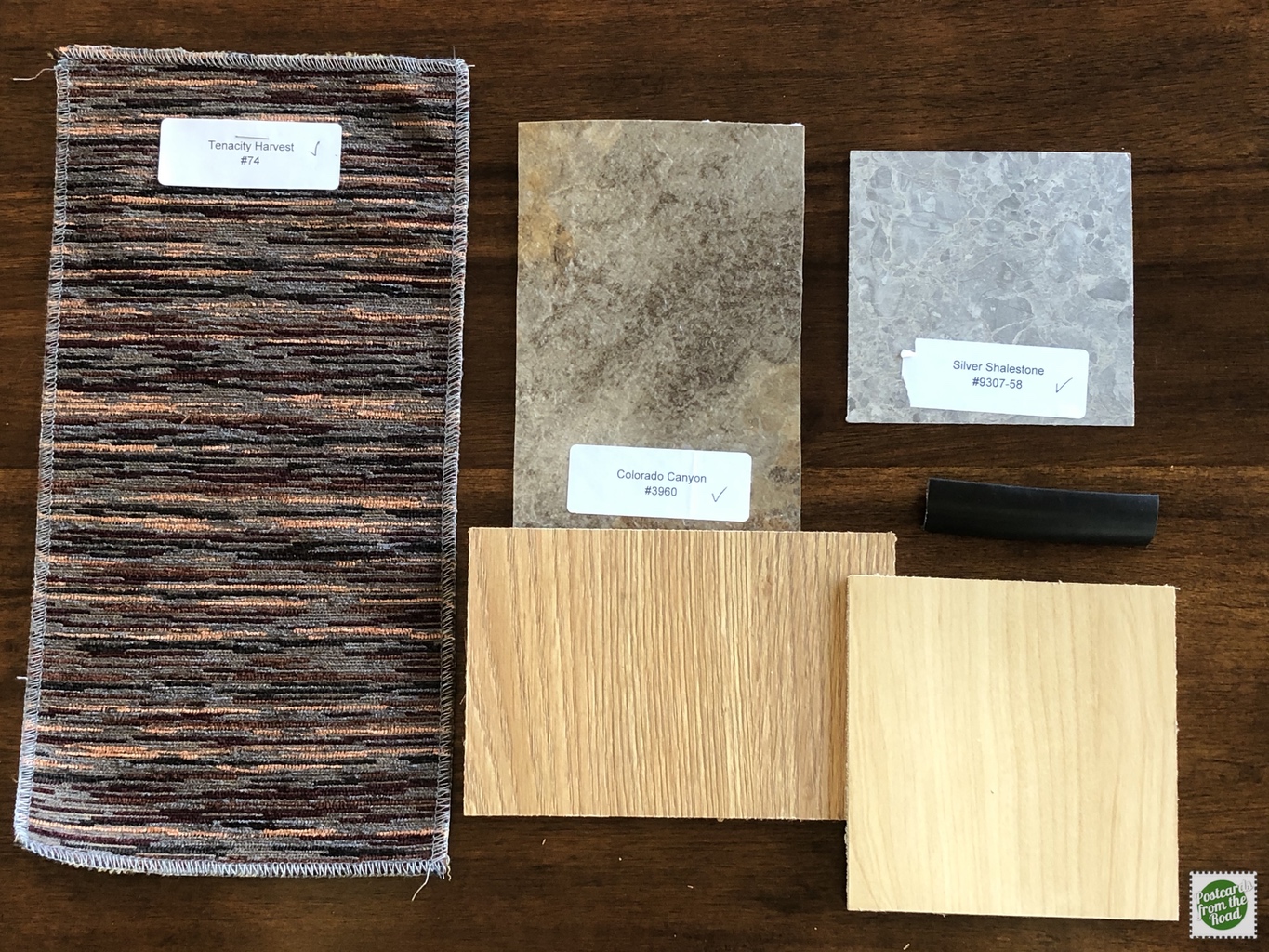 As it stands now, these are the finalists for the interior: Countertop — Silver Shalestone; Trim — black; Floor — Colorado Canyon; Fabric — Tenacity Harvest. We are still trying to decide between the maple or oak interior.
This is our build sheet, which is still a work in progress. (Now finalized.):
Suburban Flush Mount Oven & 3 Burner Cooktop
Microwave (built into the cabinet)
Two-way Hot Water Tank (Propane & 120V)
Foot Flush Toilet
Toilet Shut Off Valve
Two Lithium-Ion Batteries (100Ah each)
Inverter 1500W (Includes transfer switch to all outlets)
Two 190W Solar Panels with Charge Controller
Electrical Management System with Surge Protector
Removable Power Cord
Dometic Power Awning (9500E)
Upgrade Air Conditioner with Bluetooth compatibility & SoftStart (Coleman Mach 10 13,500 BTU)
Heat Strip for Air Conditioner
Number Pad Door Lock (includes keys)
Wireless Back-Up Camera (includes display monitor wired with 12V plug)
Upgrade Tank Level Monitoring System (SeeLevel ll)
Stereo with Four Speakers (Bluetooth/FM/CD/DVD/USB)
TV/Cable Ready with 120V Outlet & Antenna
Framed Windows, including Bathroom. Frameless split-opening rear window only. (this may change)
Aluminum Rim Package (includes 5 tires & rims)
Body Lift Kit (required if the truck sidewall height exceeds 56" — ours is 56 1/2")
Double Step Entry Step (replaces single step)
Additional Exterior Access Hatches (rear passenger side & one near entry door — for Mooch)
Exterior Propane Quick Connect
Spray Foam Insulation Under Trailer with 2 x 12V Heat Pads for black & gray tanks
Convert Bench Seat to U-Shaped Dinette
Kitchen Counter Extension
Full fabric wrap on cushions
Two sets of Retractable Wall Hooks (3 hooks per set)
Additional sewer tube holder
Additional 12V/USB outlets on both sides of the bed & in the dinette area
Additional captain reading light in dinette area
Exterior Graphics Color: Pewter
Interior: Maple; Countertop — Mineral Jet; Trim — black; Floor — Colorado Canyon; Fabric — Tenacity Harvest.
We will strikethrough any item on our build list that we decide against.
UPDATE — NOVEMBER 3
While we were on our mini-vacation at the coast, the interior samples we requested arrived from Escape Trailer. Let the fun begin with mix & matching oak or maple cabinetry along with countertops, upholstery, and flooring, as well as a trim color. Very soon, we will start working with one of their configuration specialists on our "build sheet," which will include all our options & customizations that we will want to have on our new fiberglass 5th wheel.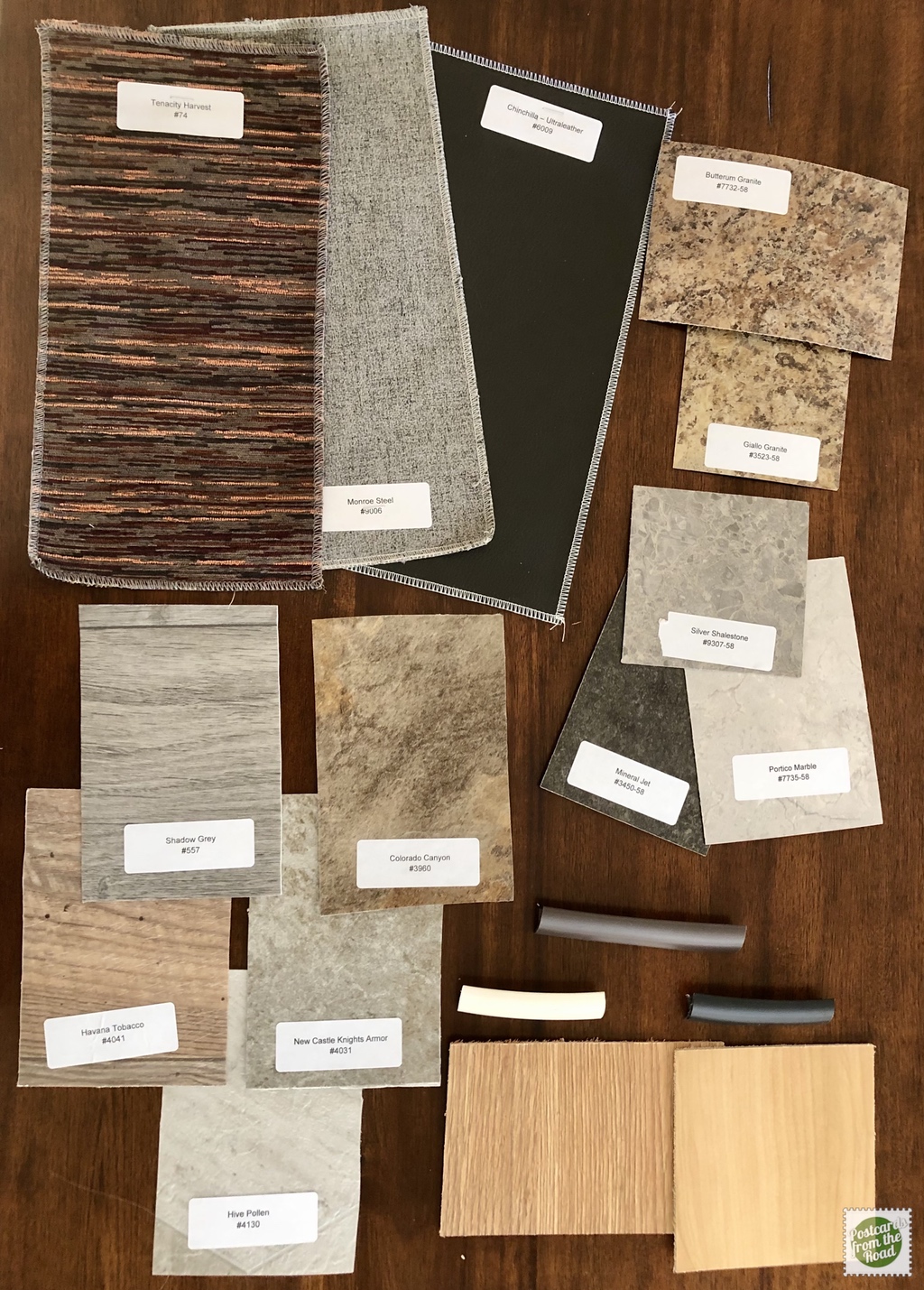 More to follow as we near our completion date.
---
A review of the Escape 5.0TA from the October 2019 issue of Trailer Life can be found here. (Thanks to the WayBack Machine.)
---
All submitted comments are subject to approval. Comments date format is: day/month/year.
---