Apr 10, 2017
The above photo was taken at Burro Creek Recreation Area in Arizona.
Since the inception of this site, our Mobile Little Free Library has had a tab on our navigation bar. We enjoyed traveling with our library, setting it up in campgrounds around the country. Because of this, we met many curious folks along with an endless supply of good reads. Today we were doing a little housekeeping and moved the page from the navigation bar to the Postcards section for archiving purposes. Below is the content of the original page:
Little Free Mobile Library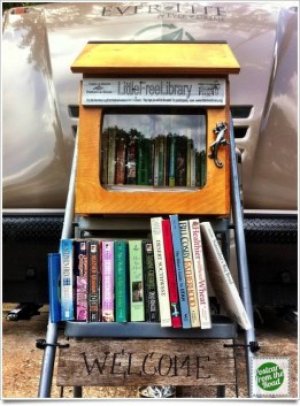 We were inspired to build our Little Free Library after viewing a news story about these libraries. We realized there's a need for little libraries in the campgrounds we visit as we thought about it. As a result, our mobile version was born, and we believe that it is the first of its kind. We hope this concept will catch on among the RV crowd, and other mobile libraries will pop up.
Update May 2016: Our library has found a new home with a fixed location and will no longer travel. It was adopted by Diana's nephew and moved to Arlington, TX. We did enjoy our time on the road with it, but it was time for a change. We drove around our old neighborhood for our extra books until we found a Little Free Library and left them in their new home.
Update April 2015: For the last fourteen months, our library has traveled with us in our new coach, and we enjoyed sharing its books with folks. However, we decided that it will move into our storage room for at least the next year. Hopefully, it will travel with us again in the future.
Update January 2014: Our Mobile Library will once again hit the road! We decided that we will have additional space with our new motor coach to carry the library as we travel.
Update from our 2013 Trip: With the completion of our summer/fall 2013 road trip, our Mobile Little Free Library is retiring from traveling. We are currently looking for a permanent home for the library.
Update from our 2012 Summer Trip: See Mobile Free Library Revisited.
---
All submitted comments are subject to approval. Comments date format is: day/month/year.
---