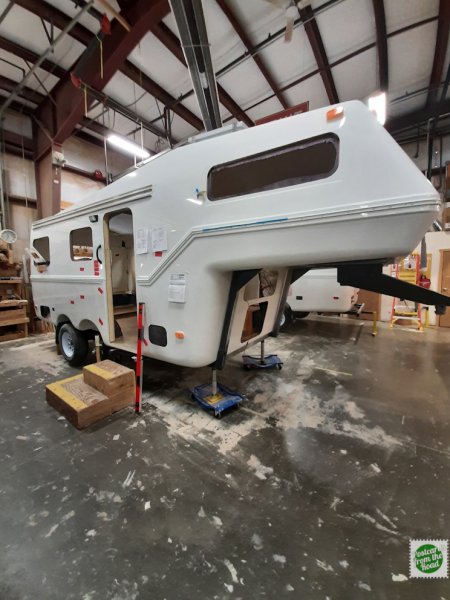 Mar 09, 2021
It's starting to get real. We were quite excited to receive our first set of construction photos from Escape Travel Trailers.
When we receive additional production photos of our trailer from Escape, we'll post them here. Nearer our delivery/pick up date, we should receive final pictures and videos, which we also share.
Production Photo Gallery
February 19th
February 22nd
February 23rd
February 24th
Febraury 25th
February 26th
Tap on thumbnail photos for a larger views & captions.
We still should receive a set of final pictures, including short videos of any custom choices.
---
"This video is designed to give you an overview of the manufacturing process of the Escape travel trailer."
---
Additional Info: Escape Trailers is a Canadian company that produces high-quality, fiberglass travel trailers. The company was founded in 2003 and is located in Chilliwack, British Columbia, Canada.
Escape Trailers offers a range of travel trailer models, including the Escape 17, Escape 19, Escape 21, and Escape 5.0TA. The trailers are known for their durable construction and attention to detail, with each trailer handcrafted to order.
The Escape trailers feature a lightweight fiberglass shell, which provides excellent insulation and durability. The trailers also include a variety of features designed to make camping more comfortable, such as a full kitchen with a stove, sink, and refrigerator, a dinette area, and a private bathroom.
Escape Trailers are designed to be versatile and are suitable for a variety of uses, including camping, road tripping, and living full-time. The trailers are also designed to be towed by a range of vehicles, including SUVs and trucks.
In addition to the quality of the trailers themselves, Escape Trailers is known for their excellent customer service. The company offers a range of customization options, allowing customers to create a trailer that fits their specific needs and preferences. The company also offers a comprehensive warranty and provides ongoing support to customers after their purchase.
---
All submitted comments are subject to approval. Comments date format is: day/month/year.
---