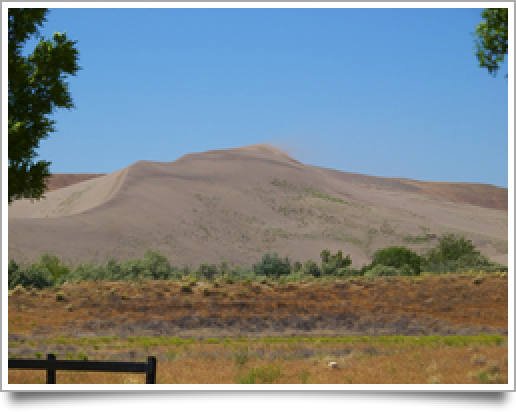 Jun 07, 2012
Bruneau Dunes State Park
Updating this site hasn't gone as planned. Two factors seem to be the culprit. First, we began this trip dry camping in areas with extremely limited or no internet connection, and when we get to an area with good coverage, we played catch-up with e-mail etc. Second factor is that our days are filled with activities such as hiking, biking, auto touring and such, that I simply don't get around to writing. Maybe we'll have a few rain days somewhere, and that will allow more time to update this site.
Today is extremely windy here at Bruneau Dunes State Park, and we have postponed our hike on the dunes because of the winds. So I have a chance to at least list a brief summary of the places we have already visited: As noted, we were in Guadalupe Mountain National Park from May 17th to 20th. From there we drove up to Cloudcroft, NM and stayed at a Forest Service campground just outside town. There are three campgrounds in a row: Silver, Saddle & Apache, at somewhere between 8,000 to 9,000 feet elevation. We camped at Saddle (May 20th - 24th) and enjoyed the tall pine trees.
Our next stop was Chaco Culture National Historical Park (May 24th - 28th). This park is off the beaten patch. We had to tow about 17 miles on a washboard road. Talk about rock and rolling. Our trailer got a real workout on this one, but it was worth it. The park has some exceptionally well restored Chaco ruins and enjoyable trails to other less restored ruins.
Next planned stop was Canyonlands National Park in the Needles district. Note I say planned. We arrived 20 minutes after the last campsite was taken (sites at this park are on a first come first serve). All did work out though, as we found a site Canyonlands Needles Outpost (May 28th- 29th). Here, twenty dollars gets you a spot with lots of red sand, a picnic table and water by the entrance. You also get to interact with the owners, Tracy and Gary, two particularly intriguing folks. I might add that in their cafe, they serve by far the best burger in maybe a hundred miles. We'll be back! Things actually turned out well because the next morning we went back to the park and got one of the better camp sites in Squaw campground (May 29th to June 1st). I simply can't say enough good things about Canyonlands. It offers desert hiking at its best and with views of the canyon formation that will remain in our minds for a exceptionally long time. Simply breathtaking.
We have been dry camping up to now, and it's time for full hookups and a little town time, so we head to Moab, Utah. We need to do laundry and restock groceries. After driving through town looking at all the RV Parks we choose Canyonlands Campgrounds (June 1st - 3rd), a place we stayed several years ago. Notice the theme in this area: so may places use the word "Canyonlands ". I fondly call this place the "trailer park" because they truly pack them in and I mean pack. It's an fascinating place with lots of activity and all sorts of people. A couple of rows over were tents and pop-ups and across from us motor coaches worth $200,000 -$300,00. And the real plus is that it's walking distance to two brewpubs: Moab Brewery and Eddie McStiff's. Brewski time!
It's time to move on, and we head to Wasatch Mountains. As we travel, there is a certain amount of uncertainly because we seldom make reservations and we need to have contingency plans as we go. Up to now, this hasn't been a problem as most campgrounds aren't terribly crowded. And it played out well at Wasatch Mountain State Park (June 3rd - 5th) near Midway, Utah. Once again, excellent hiking and we actually got to hike the last few miles of the Wasatch 100 Mile trail race. It was fun to go down the trail and catch glimpses of Midway and try to imagine what was going through the runners' heads as they were finishing their race.
The next section of the road trip was trying as we towed through a wind advisory in northern Utah and southern Idaho with gusts up to 60 mph. Lots of white knuckles and maybe the worst gas mileage of the whole trip so far. We stopped at Bruneau Dunes State Park (June 5th -8th), a gem in the high desert. The next day things calmed, and we could do a short hike on the dunes. Which brings us up today. We're experiencing high winds again.
This is a brief update on our travels through today, and hopefully I'll find the time to write more about each place.
---
All submitted comments are subject to approval. Comments date format is: day/month/year.
---