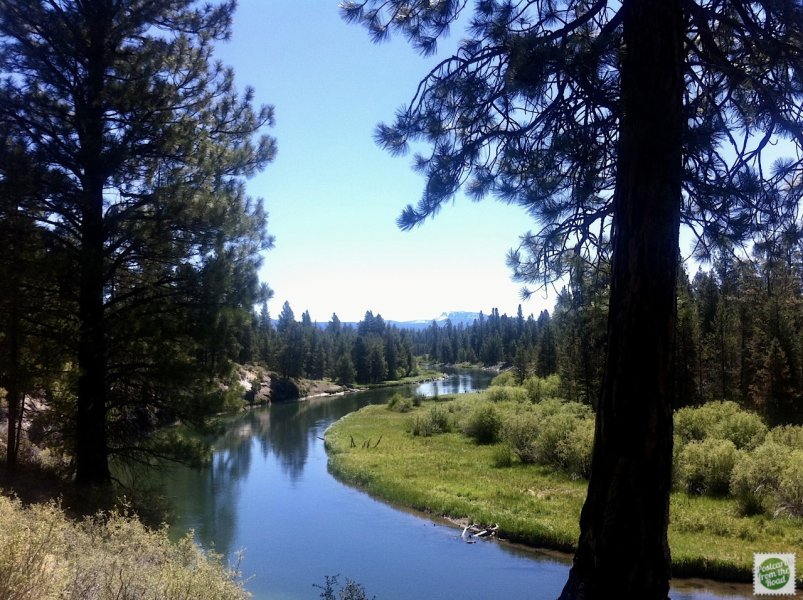 Jun 10, 2012
Top Photo: Deschutes River in La Pine State Park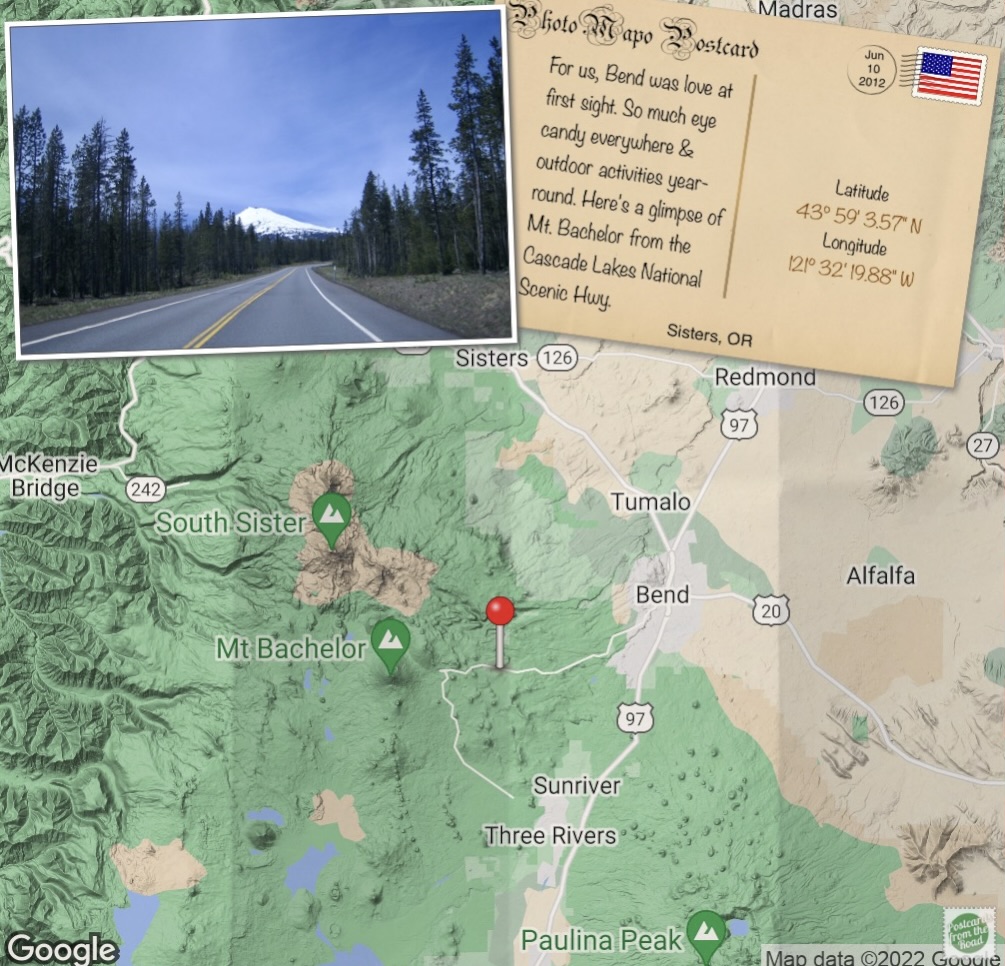 For us, Bend was love at first sight. So much eye candy everywhere & outdoor activities year-round. Here's a glimpse of Mt. Bachelor from the Cascade Lakes National Scenic Hwy.
Yesterday, we ventured into Bend. We would always say "let's go to Bend,"' but somehow never made it on our previous Portland trips. So our arrival was a long time coming. Very first impression was wow; the traffic and red lights were more than we expected. Just like home -- well, not really.
The first stop was the Ford dealership. Our F150 is due it's 30,000-mile service, and we needed to set up an appointment. Some things need to get done, whether on the road or home. The service person was friendly enough, told us to come back on Monday morning and get in the express service line. I thought, so much for an appointment. He also told us that they would shuttle us to where we wanted to go. I'm sure he didn't mean our campsite 35 miles away!
Bend has about a dozen brewpubs, so our task on hand was to sample a few. And the challenge was to pace ourselves over the day. The first stop was Bend Brewing Company, where we had lunch and a delicious Elk Lake IPA. The pub had a pleasant, easy feeling and a steady stream of visitors.
Our parking space was valid for two hours, and we still have some time left, so out comes the "Find Craft Beer" app. It looks as though we are near Silver Moon Brewing, so off we go on foot. We would have gotten there in a reasonable time if we didn't make a wrong turn. So with the time limit, we are rushed through HOP Knob IPA. It was delicious indeed. We made it back to our parking space with a minute to spare. The waitress at Silver Moon said that the meter people are pretty aggressive about ticketing.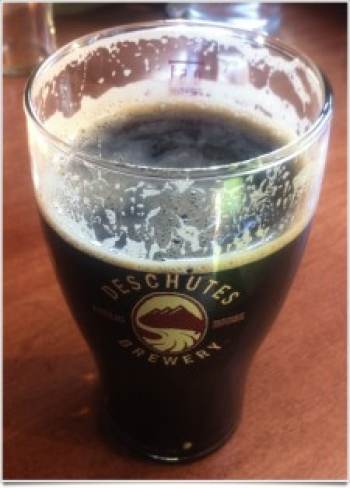 Black Butte Porter at Deschutes Brewery and Public House.
It was time to pace ourselves a bit, so we decided to check out the state park we could not get into on the north side of town. Tumalo SP seemed pleasant enough, but the spaces were rather crammed together, and with the campground full, there was much commotion, not to mention highway noise. So although our campground is an extra 30+ minute drive, it is quite worth it.
We now head back to town and end up at Deschutes Brewery and Public House. Deschutes is in our market back home, and they produce some of our favorite brews, so we have been anticipating this visit. Of course, we start with a couple of IPA's: Diana had Dirty Trail IPA, and I had Chain Breaker White IPA. Both were up to Deschutes standards as far as we were concerned. The grand finale of the day was Hop in the Dark cask-conditioned IPA. By now, you should recognize a theme -- we like IPA's. Hop in the Dark was a real treat.
Rat Hole Brewing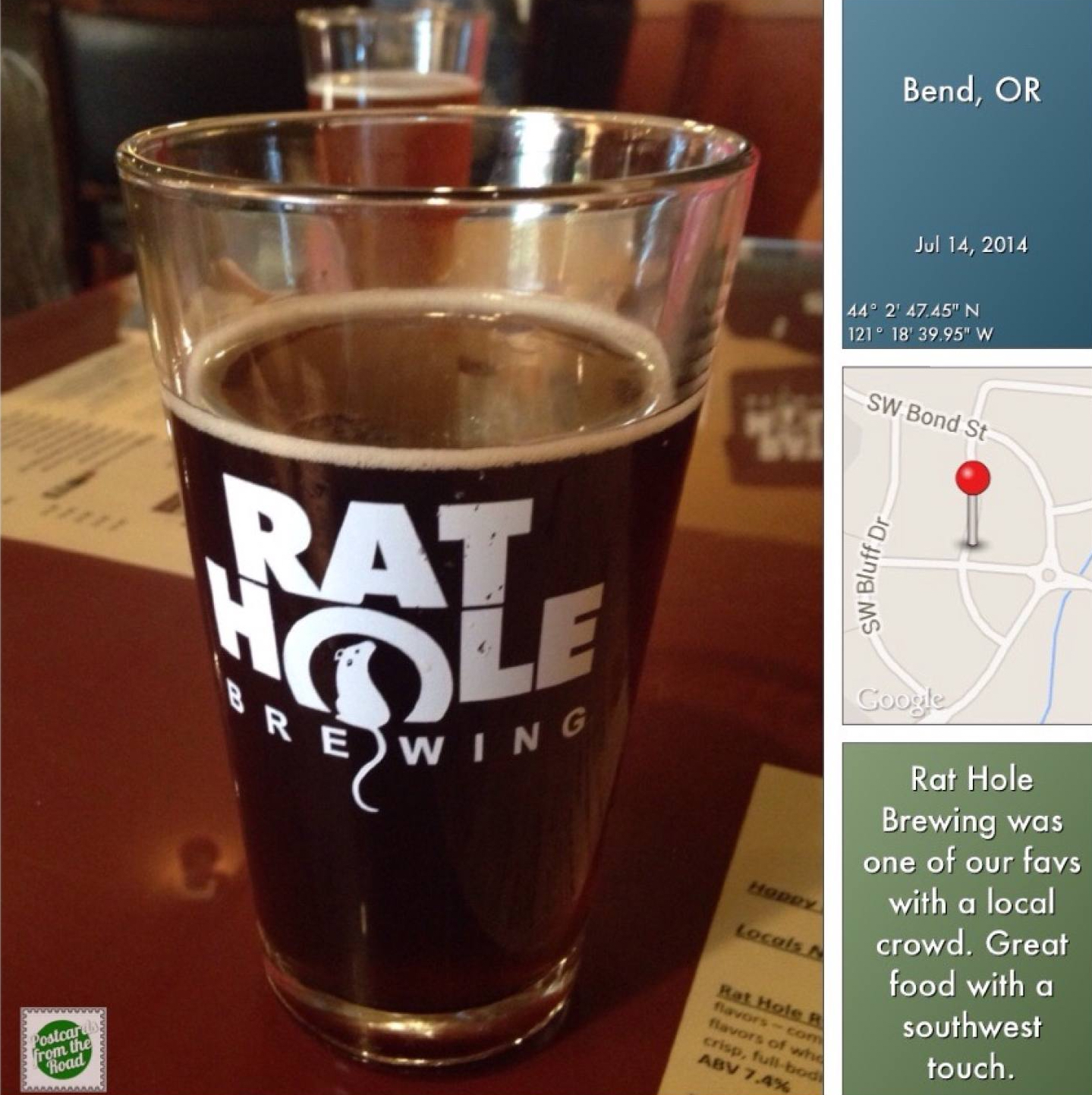 Rat Hole Brewing was one of our faves with a local crowd, Great food with a southwest touch.
Rat Hole is no longer in business.
Rat Hole Brewing [brewpub closed] 384 SW Upper Terrace Dr, Bend, OR
---
All submitted comments are subject to approval. Comments date format is: day/month/year.
---