Feb 16, 2014
Site #6, this site has full hookups, 92 sites, 521 foot elevation. February 3rd - 19th.
Overall Experience:

We continue to outfit our traveling circus. Getting the Subaru outfitted to tow has been a bit of a challenge, but Robert finally discovered that Spillar Hitch Co. in Austin could likely do the job. We drove into Austin to talk to them and got hooked up with Randy, who really knew his stuff. We ordered the parts and were scheduled for Wednesday, Feb 12, a few days away. So we added another week to our stay in Bastrop. In the meantime, we are in the midst of one of the coldest area winters in quite some time, so cold rainy days keep us from doing outdoor activities. We are organizing stuff in the Turtle and watching the Olympics on the nasty days. Saturday, we finally had our plate party at the Flying Saucer. Sunday was nice, and our Bastrop area friends Steve and Frank & Cat joined us for a cook-out. Monday again brought a nasty cold front, but our parts did arrive, and we went into Austin on Wednesday to have the work done and play tourist. We walked up and down Congress in a cold wind and finally found Magnolia Cafe was open and went in for breakfast. Then walked to Town Lake and to walk the trail. We went on to include the Nature Center trail that we used to run with Austin Runners Club. I had kind of forgotten about that trail, and it was good to explore it again.
We got back just as Randy was finishing up, and he gave us a good walkthrough on how to hook up and tow. Then went to Subaru to get my license plates and hooked up with Pam for a brew at Workhorse. Thursday our friends Diane and Dave treated us to Pizza and pints at Pour House. Friday was an exciting Valentine's Day doing laundry and getting a haircut. We did celebrate at Road House with a delicious burger and later a bottle of wine given to us by Anne. Saturday, I hosted a run at the park, attended by Marcia and Tilly, Brett, and Christian, then Road House again with Marcia and Tilly.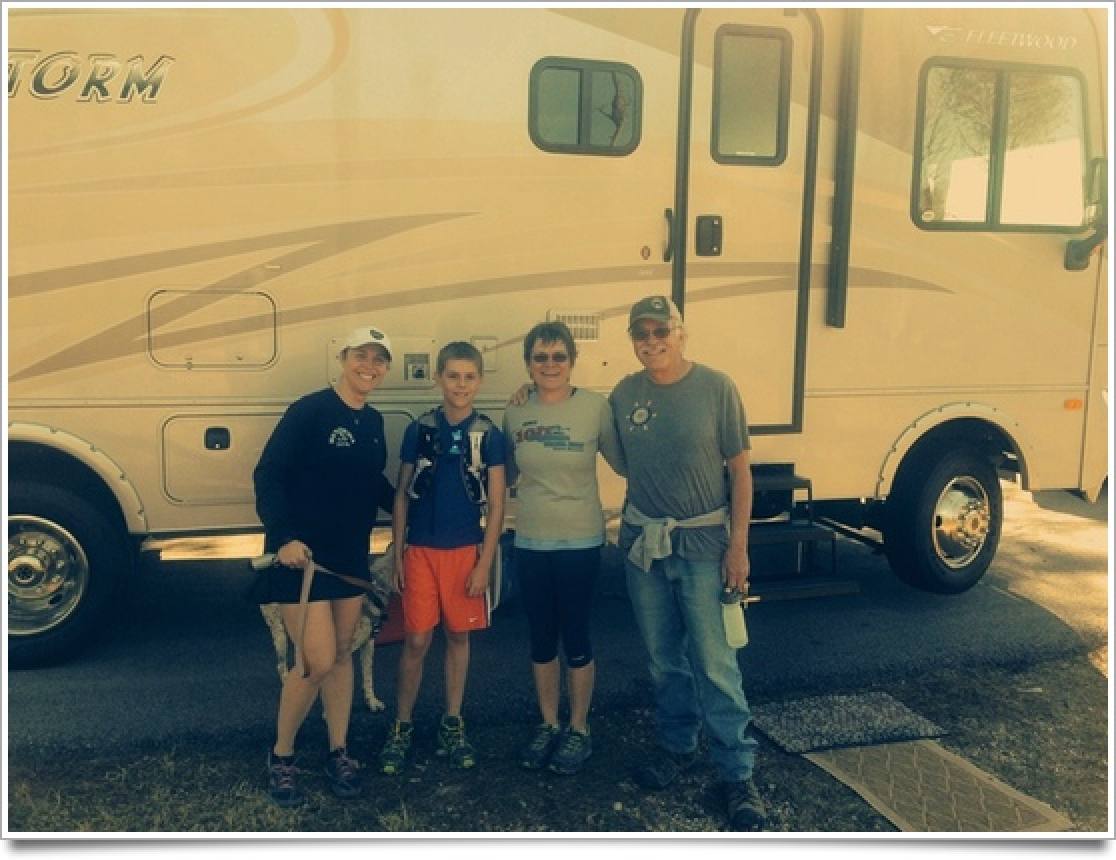 That evening, Margo and Mike brought over firewood and joined us for dinner and a fire. Today finds us organizing some more and debating our (hopefully) final major outfitting: what kind of rock guard to use for protecting the Subaru while towing. Still, a lot of learning going on here.
I am getting pretty anxious to actually getting on the road, but these things are all better done while we have access to a large, familiar city since our next stops will be heading to west Texas. We are also still trying to figure a new set-up for Stalker's catio.
~ Diana
---
All submitted comments are subject to approval. Comments date format is: day/month/year.
---