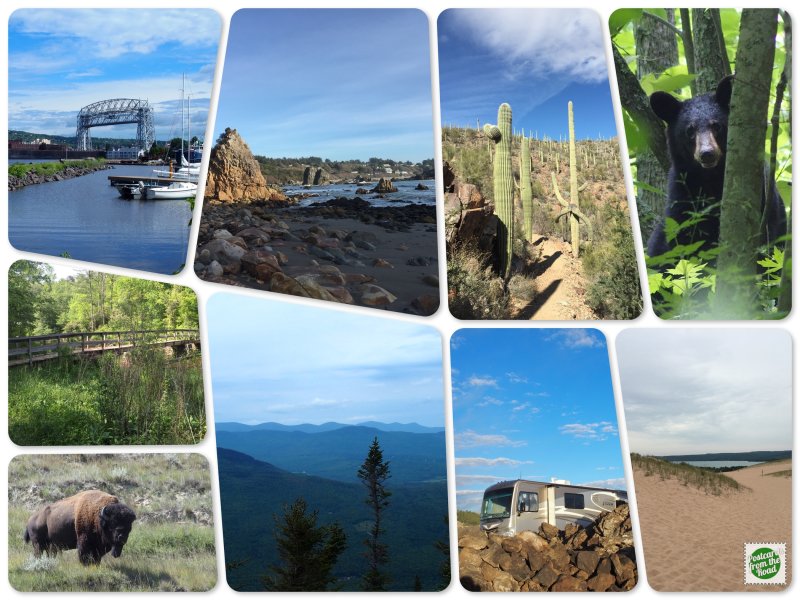 Jan 02, 2016
Collage (clockwise starting upper left): Lakehead Boat Basin; Harris Beach State Park; Gilbert Ray Campground; Shenandoah National Park; Sleeping Bear Dunes National Lakeshore; Craters of the Moon National Monument; Dolly Copp Forest Service Campground; Theodore Roosevelt National Park; Lake Powhatan Campground.
It's once again time for the fave list. This past year was a big mileage year for us in which we circled the country and camped in about 57 different campgrounds or RV parks (this doesn't include the boondocking spots). Most places we liked, so creating a list with our top faves took a bit of thought. For the most part, we prefer public campgrounds, and this is reflected with this list.
Faves for 2015 (in alphabetical order)
Besides these campgrounds/RV parks, we driveway surfed & boondocked with family and friends across the county. These stops are all considered faves.
Honorable Mention – These three were included on our 2014 Fave list, and we revisited each in 2015:
---
All submitted comments are subject to approval. Comments date format is: day/month/year.
---