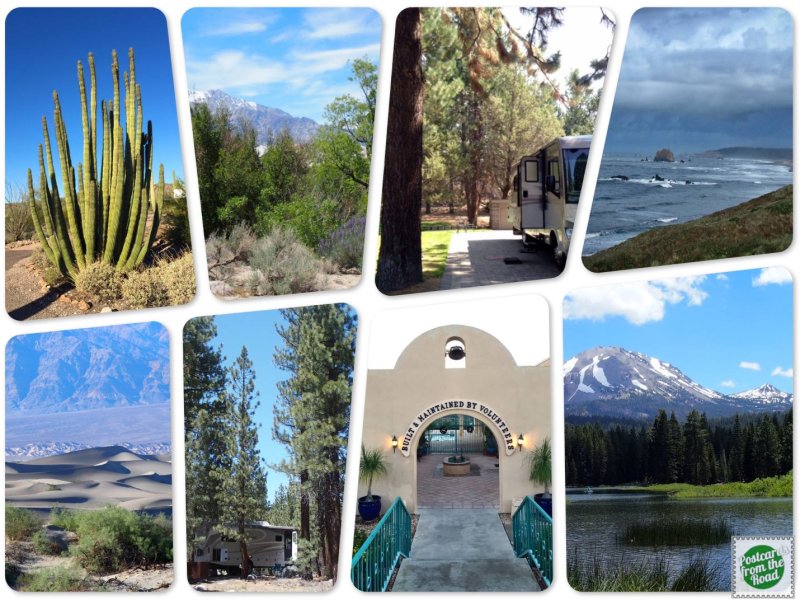 Dec 28, 2014
Clockwise starting in the upper left corner: Twin Peaks Campground, Tuttle Creek Campground, Crown Villa RV Resort, Cape Blanco State Park Campground, Manzanita Lake Campground, Jojoba Hills SKP RV Resort, New Shady Rest Campground, Death Valley National Park.
It's the time of year for lists, and so we have to get into the action. Here are our favorite campgrounds for 2014 (in no particular order). We would like to include most places we stayed, as we really liked all of them for one reason or another. So making this list took some thought as we traveled about 5,000 miles in our RV and stayed in 45 different campgrounds/RV parks in 2014. Actually, there was only one campground that we really didn't like, and we stayed there for only one night.
So here they are:
Twin Peaks Campground, Pipe Organ Cactus National Monument, AZ. We really like the desert, and this campground is top-notch with spacious sites in a beautiful setting. Nice concrete pads in each site with water nearby. Very clean restrooms. Good hiking trails from the campground as well as from various trailheads in the park, and there are also several interesting desert drives to choose from.
Tuttle Creek Campground, Lone Pine, CA. This is a no-frills BLM campground that has good water available near the sites and vault toilets. What it lacked in amenities was supplemented up by the surrounding beauty of the Eastern Sierra and its foothills. The area south and north of the park is the famous Alabama Hills, where many Westerns were filmed. This area also offers opportunities to boondock (dispersed camping on BLM land). At the campground, our site was reasonably level and backed up to Tuttle Creek, which was loaded with Rainbow Trout. With Mt. Whitney Portal nearby and other access roads into the Sierra's, there is no shortage of good hiking. An added bonus is the fact that Diana was able to run a ten-mile trail race right from the campground! Lacking in Lone Pine is a good grocery store, but there are several good choices down the road in Bishop. There's a well-stocked chain store, Von's, aka Safeway, and there's the locally owned Manor Market, which we recommend visiting. And near Bishop is Horton Creek BLM campground, which is very similar to Tuttle Creek.
Crown Villa RV Resort, Bend, OR. First-class RV park right in Bend. Rates are a tad pricy, but its location makes up for this. Very spacious sites with paver brick pads, full hookups, and a small storage building. Lots of activities at the park and throughout the Bend area, with no shortage of things to do.
Cape Blanco State Park Campground, Port Orford, OR. This is a beautiful state park on the Oregon coast located next to a historic lighthouse. Good trails in the park, along with opportunities for beach walks. On the ocean side of the park are cliffs with a parallel trail system that offers spectacular views. Sites are paved with water and electricity, but no dump station. There's a centrally located clean restroom with showers that's convenient to all campsites.
Manzanita Lake Campground, Lassen Volcanic National Park, CA. Very pleasant campground near Manzanita Lake in a very diverse National Park. Good hiking opportunities from the campground, as well as throughout the park. Campsites were typical for a National Park in the sense that they were close together with water nearby. We got lucky as our site did have a little elbow room.
Jojoba Hills SKP RV Resort, Aguanga, CA. This PV park is a co-op where the members have a site as long as they maintain their membership, and they are expected to volunteer their time. It's a 55+ community, and you must be a member of Escapees RV Club to join the co-op or visit (there's a waiting list to join the co-op). Hiking opportunities are available on adjacent properties to the park, as well as in the area. The park is in a rural setting near Temecula; a mere 15 minute drive away with an abundance of shopping and restaurants.
New Shady Rest Campground, Mammoth, CA. This Forest Service campground is located on the edge of Mammoth, Ca, and offers walking opportunities to nearby restaurants and stores. The town also has an excellent paved bike path system, so getting around is easy. The sites are paved but with no hookups and have water nearby. The clean restrooms have flush toilets. There is hiking available from the campground and plenty of other hiking opportunities in the area. Devils Postpile National Monument is nearby and worth the visit.
Furnace Creek Campground, Death Valley National Park, CA. For some reason, we fell in love with Death Valley. It's a massive park and requires lots of driving. We found a few hikes not too far from the campground that we thoroughly enjoyed. Great options for day drives on both paved and gravel roads. In the campground, sites are fairly close together, but we lucked out and found a site with full hookups and some bushes on one side of us.
---
All submitted comments are subject to approval. Comments date format is: day/month/year.
---