We moved over to the Humboldt County Fairgrounds and will be spending Thanksgiving with a couple of RV friends, John & Sue that we met in northern Washington a few years ago. Life is good!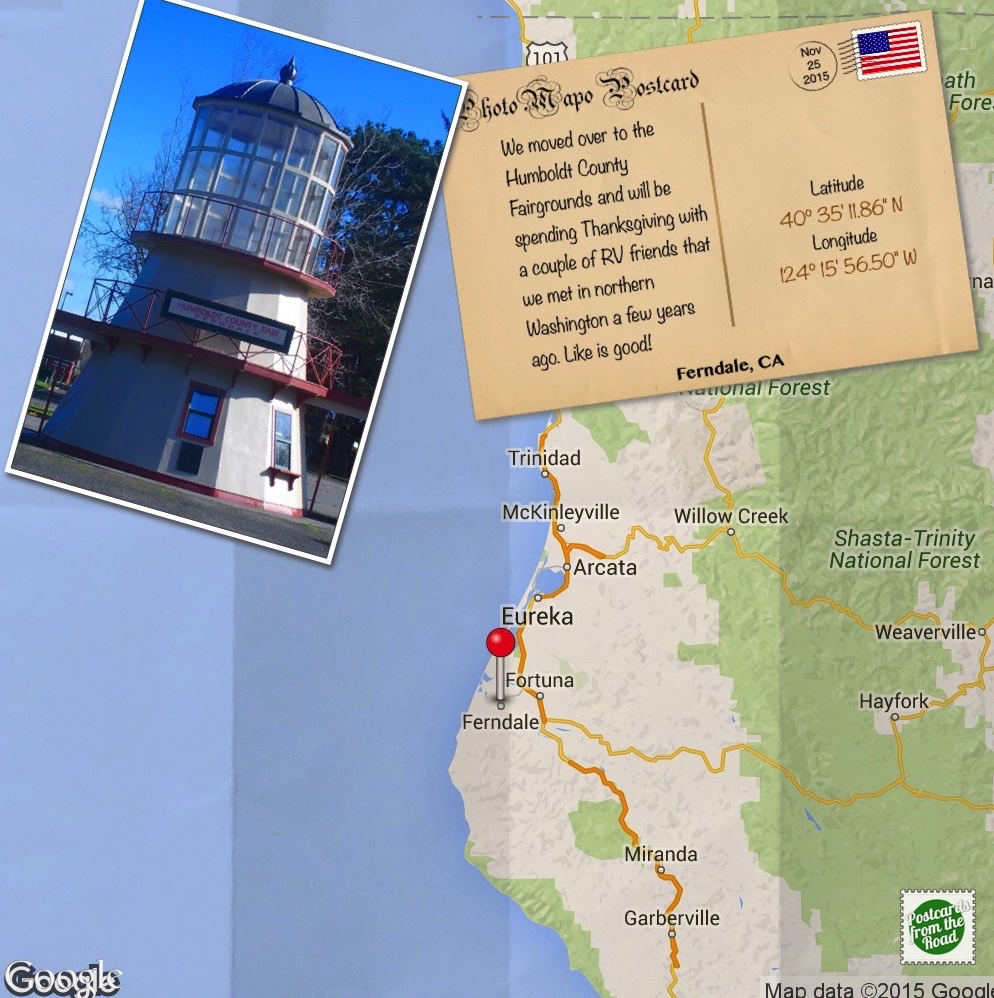 Humboldt County Fairgrounds RV Park - County Park, Ferndale, CA: Site #61 (100 RV sites total) - This site has: electric & water hookups. Campground/RV Park Notes: flush toilets • showers • dump station available • trails nearby • 29' elevation. Nov. 25th - 28th. Miles traveled – 10.

Overall Experience: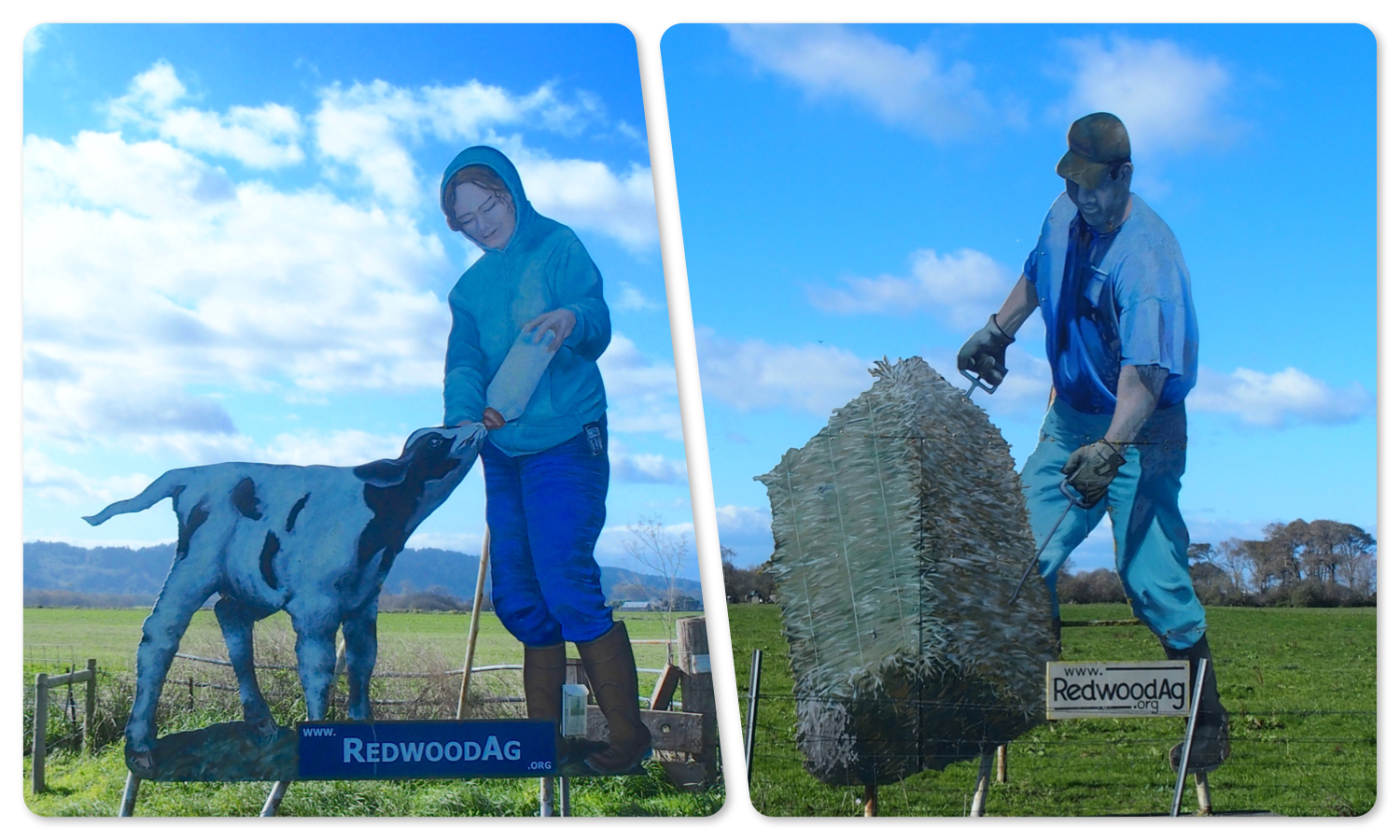 From our site at the Humboldt County Fairgrounds, we look across the way at a field full of dairy cattle. In the area, we've seen several fence post signs for Horizon Organic. It appears that the cows grazing on lots of green grass are happy, just like Horizon's logo.
Every once in a while, we're in a situation that's a tad scary, such as the bridge on the road to Ferndale. Our coach's width is the max legal at 102" (8' 5"). This width doesn't include safety equipment – i.e., mirrors. I'll guarantee that we filled every bit of space between the yellow & whites stripes on this bridge!
Thanksgiving RV Style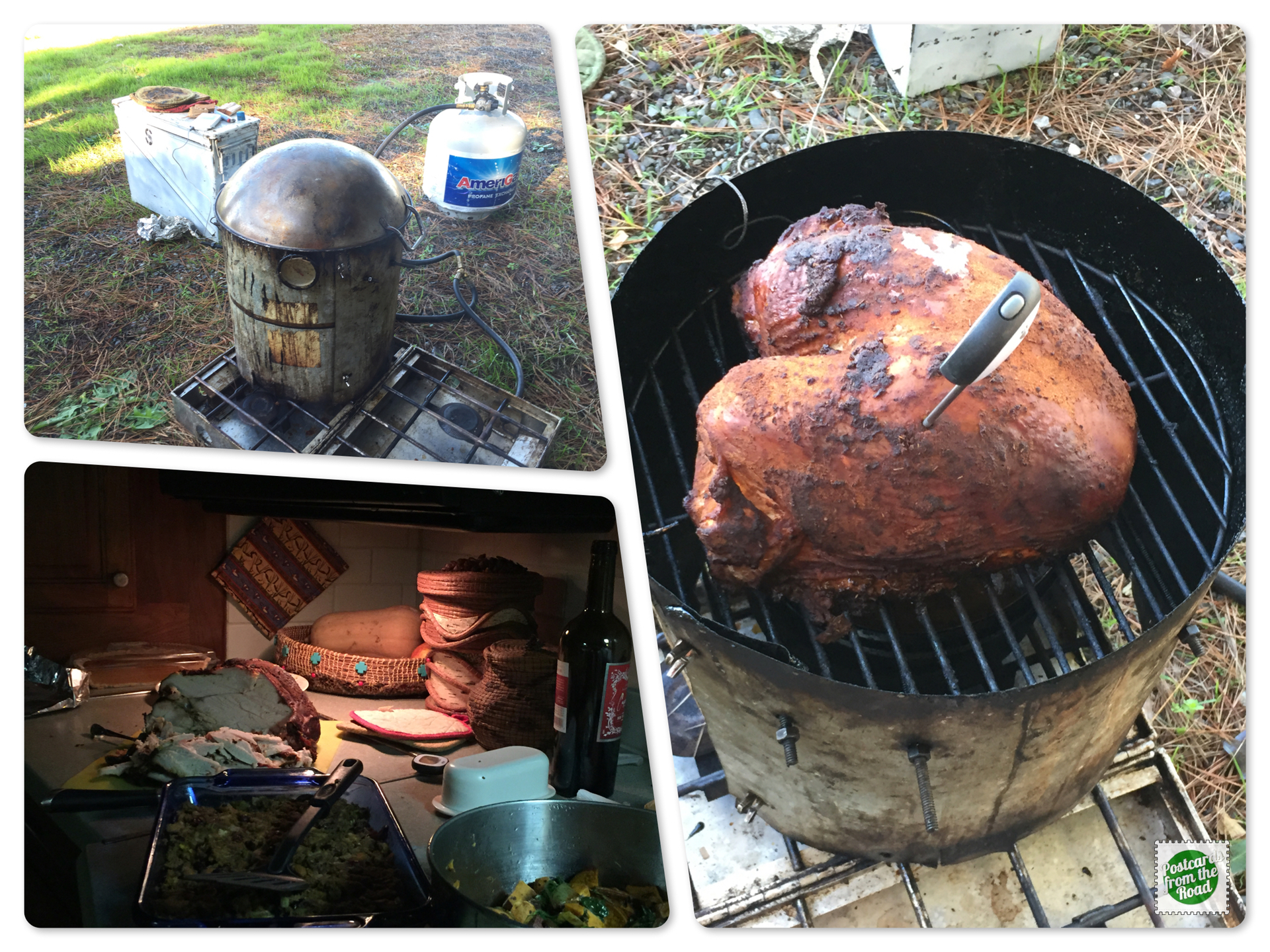 John created a unique smoker that folds up neatly for storage in his RV. The cover is dual-purpose: not only does it cover the smoker, but it's also Sue's cooking wok. Thanks to John's skills, the turkey came out perfect. Meanwhile, Sue & Diana put the rest of the meal together in the RV. All was excellent.
Local Flavor – Area Businesses We Enjoyed & Recommend
• Eel River Brewing Tamproon & Grill, Fortuna, CA
• Ferndale Pizza Company
---
All submitted comments are subject to approval. Comments date format is: day/month/year.
---
Our Travel Preferences
We generally like to travel without reservations and prefer public camping opportunities over commercial RV parks. Occasionally we make exceptions — however, not often. We're okay with dry-camping & boondocking, but sometimes hookups are nice. We also enjoy the unique overnight stops that Harvest Hosts and Boondockers Welcome have to offer. These preferences are the foundation for our "Overall Experience" ratings. A "yellow smiley face" doesn't necessarily mean that there's a pool or jacuzzi or whatever, but rather a stopover that we thoroughly enjoyed. While a "yellow neutral face" isn't a bad thing, we didn't get as excited about the campground as others. We think a "yellow frowny face" speaks for itself.
---
Be a Good Steward of our Public Lands
---
---
---
---
Based out of
Bend, OR
• Exploring North America