Apr 16, 2018
Top Pic: The Last Supper (1984) by Albert Szukalsk, Goldwell Open Air Museum.
Thanks to Harvest Hosts, we had the opportunity to spend the night at Goldwell Open Air Museum. Our coach is nicely situated across from the "Red Barn" – the art studio.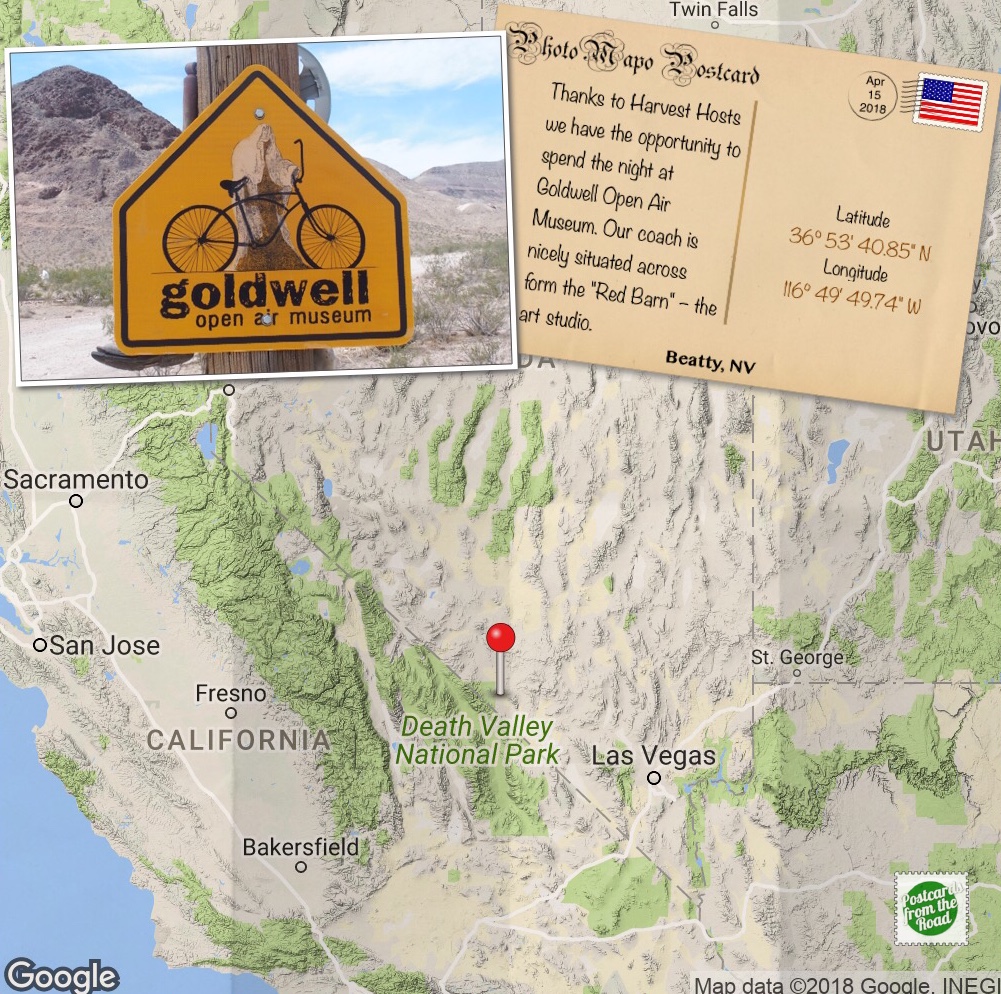 Overnight Parking - Goldwell Open Air Museum, Beatty, NV: Participating HarvestHosts.com member, no facilities provided, must have self-contained RV & have an active Harvest Hosts membership for an overnight visit. April 15th-17th. Miles traveled: 217 miles (tap on mileage to see route & elevation change).

Overall Experience:
As it turns out, we ended up dry camping on public land near the museum's property, which allowed us to stay for a couple of nights.
Additional Info: The Goldwell Open Air Museum is an outdoor sculpture museum located in the desert of Nevada, United States. The museum is located in the ghost town of Rhyolite, Nevada, which was a mining town that flourished in the early 20th century. The museum was founded in 1984 by Belgian artist Albert Szukalski, and features a number of large-scale sculptures and installations created by Szukalski and other artists.
One of the most iconic pieces at the Goldwell Open Air Museum is the "Ghost Rider," a sculpture of a ghostly rider on a horse made of metal and other materials. The museum also features a number of other sculptures, including "The Last Supper," a tableau featuring life-size figures of Jesus and the disciples, and "The Lady in the Lake," a sculpture of a woman emerging from a lake.
The Goldwell Open Air Museum is open to the public and is a popular tourist destination in the area. It is free to visit and is open year-round, although the best time to visit is generally considered to be in the spring or fall, when the weather is more mild.
---
All submitted comments are subject to approval. Comments date format is: day/month/year.
---