We woke up Monday morning with the intent to hit the road. Stalker was having labored breathing, so we went to the vet in Grand Forks instead. X-rays of his lungs were darker than normal, indicating infection or cancer. Treated for infection, but when we got back to the coach, he rapidly declined. Took him back for further treatment but to no avail. Rather than euthanasia at the clinic, we brought him back home to die in his familiar surroundings. We are both in shock.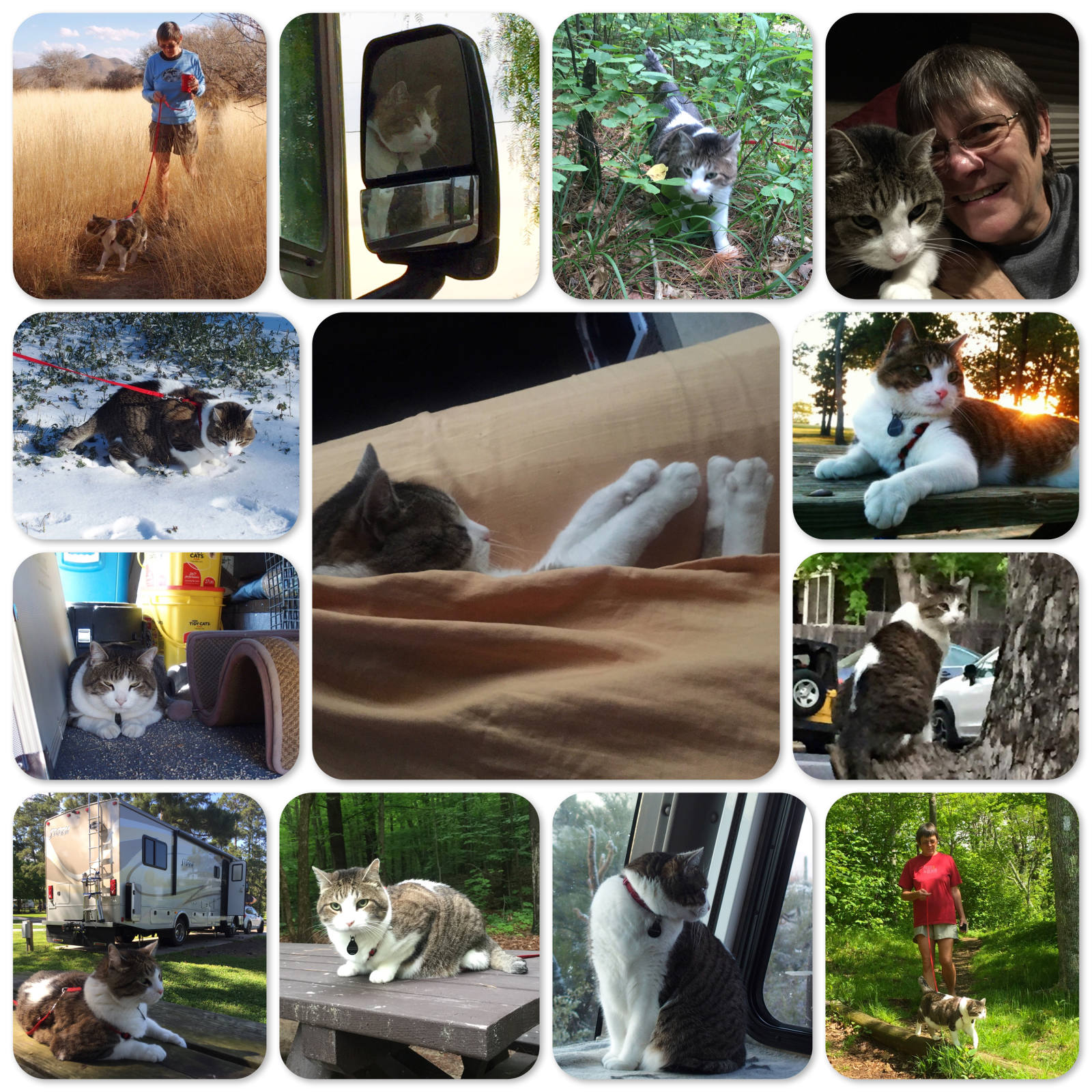 COLLAGE OF STALKER'S LAST YEAR & HALF ON THE ROAD. Center photo: Stalker sleeping in at Duluth, MN (he was so cozy). Clockwise starting upper left corner: On a walk at Hueco Tanks, TX; Looking in the mirror at Aguanga, CA; Stalker exploring at Cass Lake, MN; Stalker & his girlfriend at Cape Blanco, OR; Stalker at Kincaid Lake Recreation Area, LA; Driveway surfing in Austin, TX; Stalker exploring the Appalachian Trail in Shenandoah National Park, VA; Stalker looking around on New Year's Day in Tucson, AZ; Stalker at Rogers Rock, Adirondack Park Preserve, NY; Stalker relaxing at Wolf Creek Park, TX; Stalker in his "Catio" at Burro Creek, AZ; Walking in snow at Fort Griffin State Historical Park, Albany, TX.
Just about eleven years ago, we rented a cabin at Bastrop State Park in Texas. As we were on an evening stroll, my daughter noticed that a cat was stalking us in the bushes. This cat, about a year old, was skin and bones — you could count his ribs. When we got back to the cabin, Diana fed him leftover chicken fajitas and wondered out loud if he would be there in the morning. His nose was glued to the screen door all night. The next morning Diana asked the park personnel about "Stalker." They said he was recently hanging around the cabins, and they needed to do something with him. She said she would find him a good home and that she did. Once we started traveling in RVs, he became a great traveling kitty, and he saw a lot of this country. Sadly, he's now gone... he came into our lives in a state park and left many years later in a different state park across the country. We were very fortunate that he was able to share our travels. He was our travel kitty. R.I.P. Stalker and safe travels on your new journey.
---
All submitted comments are subject to approval. Comments date format is: day/month/year.
---