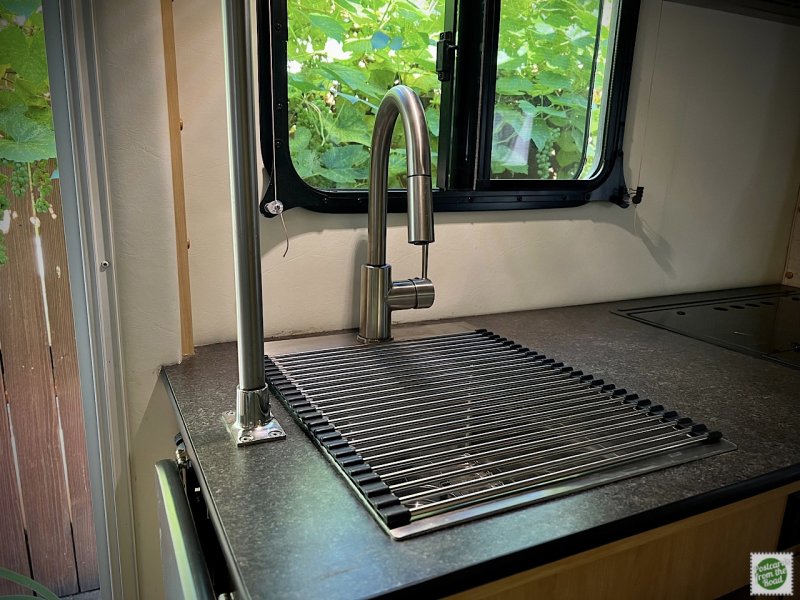 Aug 14, 2022
Top Photo: Completed project with new sink & drainer on top.
Diana was understandably unhappy with the stock sink that came with our Escape 5.0. It was too small, too shallow, and allowed water to splash everywhere. Rob't saw several posts on FB's Escape Trailer page where folks had replaced their sink. After a bit of research, we ordered a Valisy 15 x 20-inch sink from Amazon—this is the same sink that a few others had used.
For the most part, the installation was pretty straightforward. A larger hole needed to be cut in the counter, sink mounted, and plumbing reconnected. But there were a few challenges with the installation. First, the template the manufacturer supplied was totally useless, which meant that the cut hole required some adjustments. Second, the clamps provided needed to be modified to make them functional, and this took some experimentation before they would secure the sink properly. The clamps that came with the original sink were much more sturdy, but unfortunately would not work with the new sink. Last, since this was a larger sink, the working space under the counter was restricted, which made some work a tad difficult for someone with larger hands.
Now that the project is completed, we are delighted with the results. All that is left is to plan a trip, so it can be tested on the road!
Tap on thumbnail photos for a larger views & captions.
---
Comments
All submitted comments are subject to approval. Comments date format is: day/month/year.
---
Our Travel Preferences
We generally like to travel without reservations and prefer public camping opportunities over commercial RV parks. Occasionally we make exceptions — however, not often. We're okay with dry-camping & boondocking, but sometimes hookups are nice. We also enjoy the unique overnight stops that Harvest Hosts and Boondockers Welcome have to offer. These preferences are the foundation for our "Overall Experience" ratings. A "yellow smiley face" doesn't necessarily mean that there's a pool or jacuzzi or whatever, but rather a stopover that we thoroughly enjoyed. While a "yellow neutral face" isn't a bad thing, we didn't get as excited about the campground as others. We think a "yellow frowny face" speaks for itself.
---
About Us
This site is an attempt to chronicle our travels using our unique "Postcard" style with snippets of info. Continue Reading....
---
Be a Good Steward of our Public Lands
---
---
---
---
Based out of
Bend, OR
• Exploring North America