Aug 04, 2015
We needed a spot for just one night & decided to stop at Cracker Barrel. They had 5 RV spots in a pleasant setting. Plus, the next morning, we had a delicious breakfast.
Cracker Barrel Restaurant - Complimentary overnight RV parking. 3,200' elevation. August 3rd - 4th.
Overall Experience: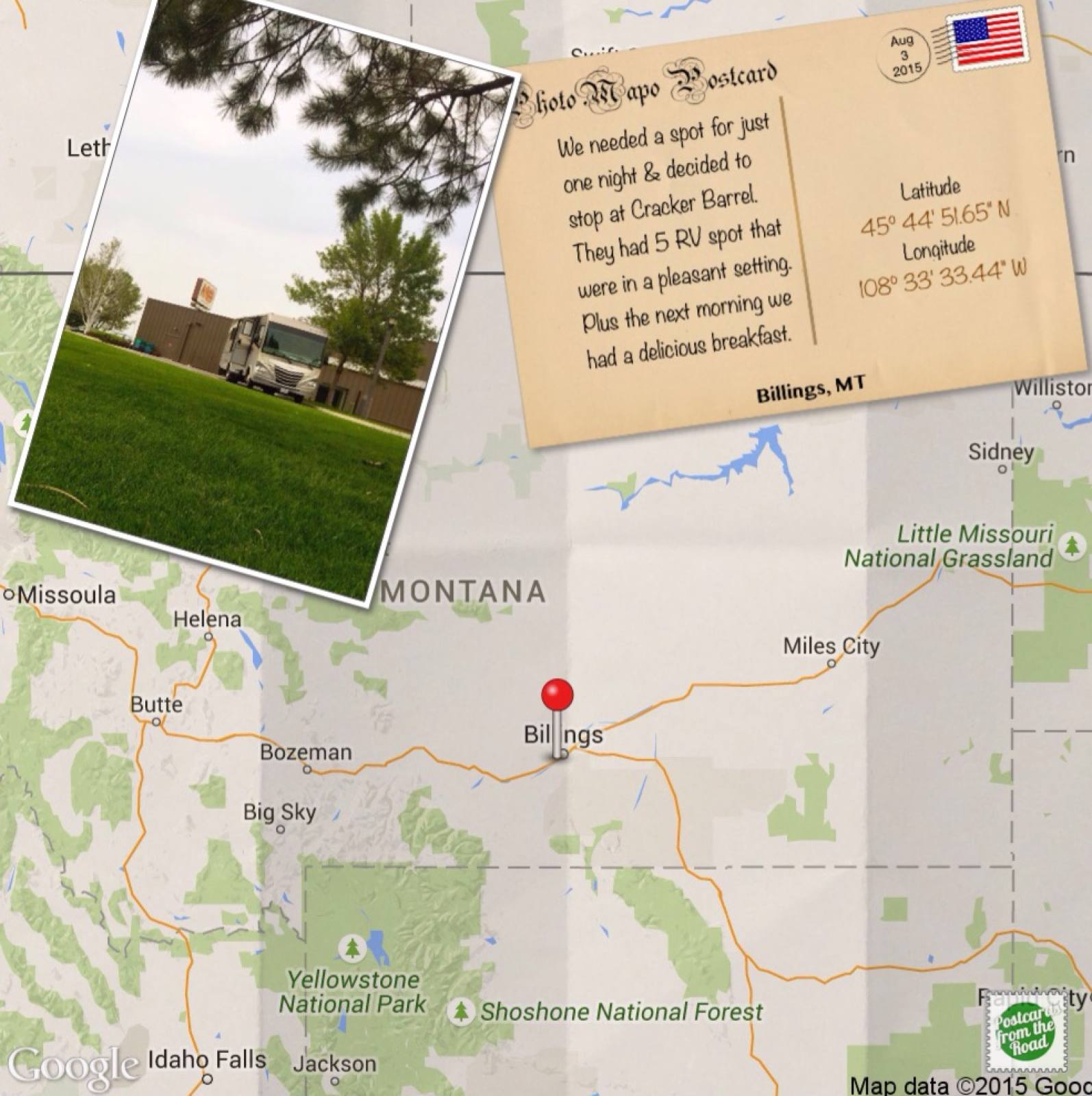 Local Flavor – Area Businesses We Enjoyed & Recommend
• Uberbrew Montana
---
Addition Info: Billings, Montana is a vibrant and diverse city located in the south-central part of the state. The city is the largest in Montana, with a population of over 110,000 people. Billings is home to a variety of attractions, from the Yellowstone River to the Rimrocks, which are a series of sandstone cliffs that are a popular spot for hiking and rock climbing. Billings is also home to the Montana State University Billings and Rocky Mountain College, which offer a wide array of educational opportunities. The city is also the site of many annual festivals, including the Montana Folk Festival and the Montana State Fair. There are plenty of shopping and dining options in Billings, from the historic downtown district to the numerous shopping centers and malls. Other attractions in Billings include the Moss Mansion, the Pictograph Cave, and the ZooMontana, which is home to a variety of animals, including tigers, wolves, and bears. Billings is a vibrant city with something for everyone, and its unique blend of culture, history, and natural beauty make it a great place to visit and explore.
---
All submitted comments are subject to approval. Comments date format is: day/month/year.
---
Our Travel Preferences
We generally like to travel without reservations and prefer public camping opportunities over commercial RV parks. Occasionally we make exceptions — however, not often. We're okay with dry-camping & boondocking, but sometimes hookups are nice. We also enjoy the unique overnight stops that Harvest Hosts and Boondockers Welcome have to offer. These preferences are the foundation for our "Overall Experience" ratings. A "yellow smiley face" doesn't necessarily mean that there's a pool or jacuzzi or whatever, but rather a stopover that we thoroughly enjoyed. While a "yellow neutral face" isn't a bad thing, we didn't get as excited about the campground as others. We think a "yellow frowny face" speaks for itself.
---
About Us
This site is an attempt to chronicle our travels using our unique "Postcard" style with snippets of info. Continue Reading....
---
Be a Good Steward of our Public Lands
---
---
---
---
Based out of
Bend, OR
• Exploring North America