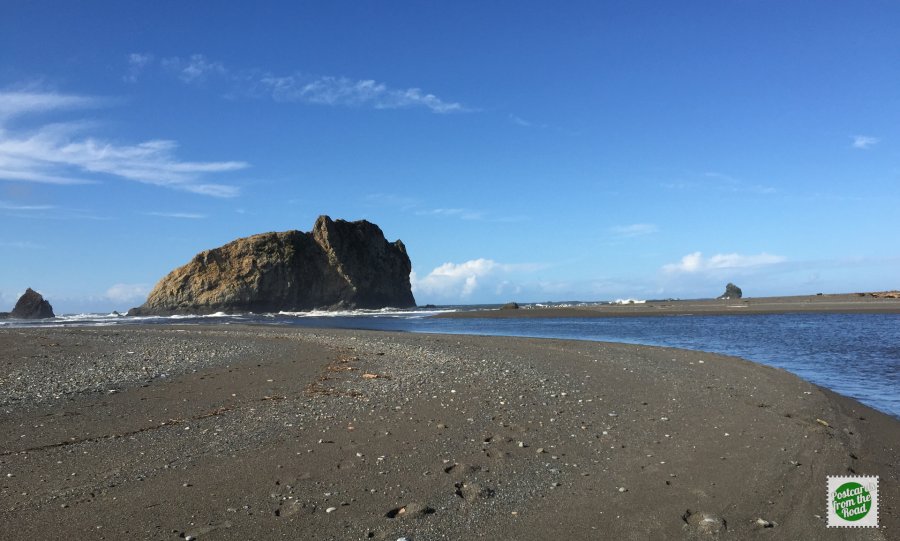 Oct 26, 2014
Top Photo: The Sixies River meets the Pacific Ocean.
Landed in Cape Blanco State Park, the most western point on the Oregon coast. We paid for two nights, but imagine our stay may be a tad longer.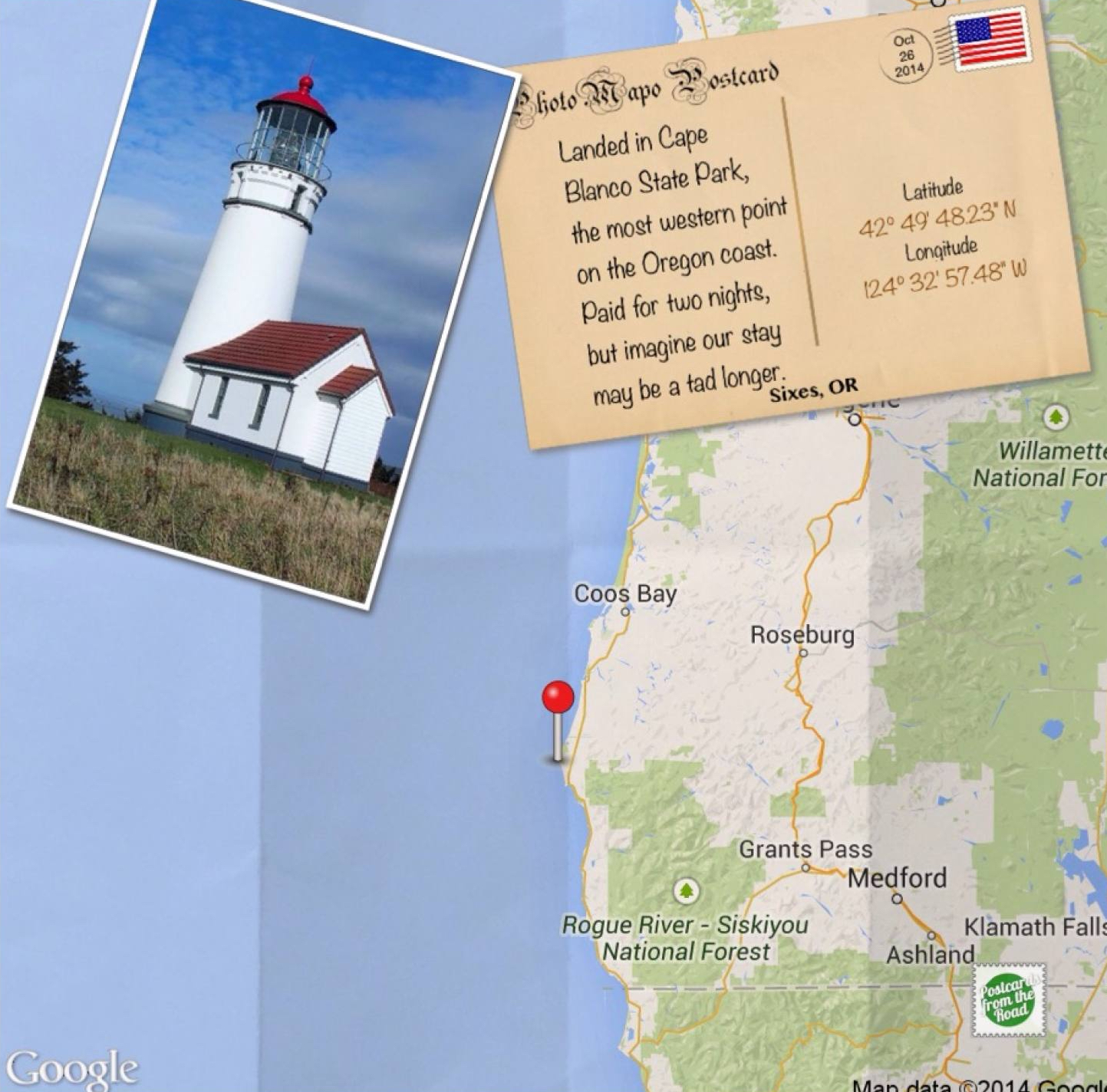 Cape Blanco State Park: Site A43, this site has water and electric, no dump station, 53 total sites, 262 ft elevation. October 26th - Nov 2nd.

Overall Experience: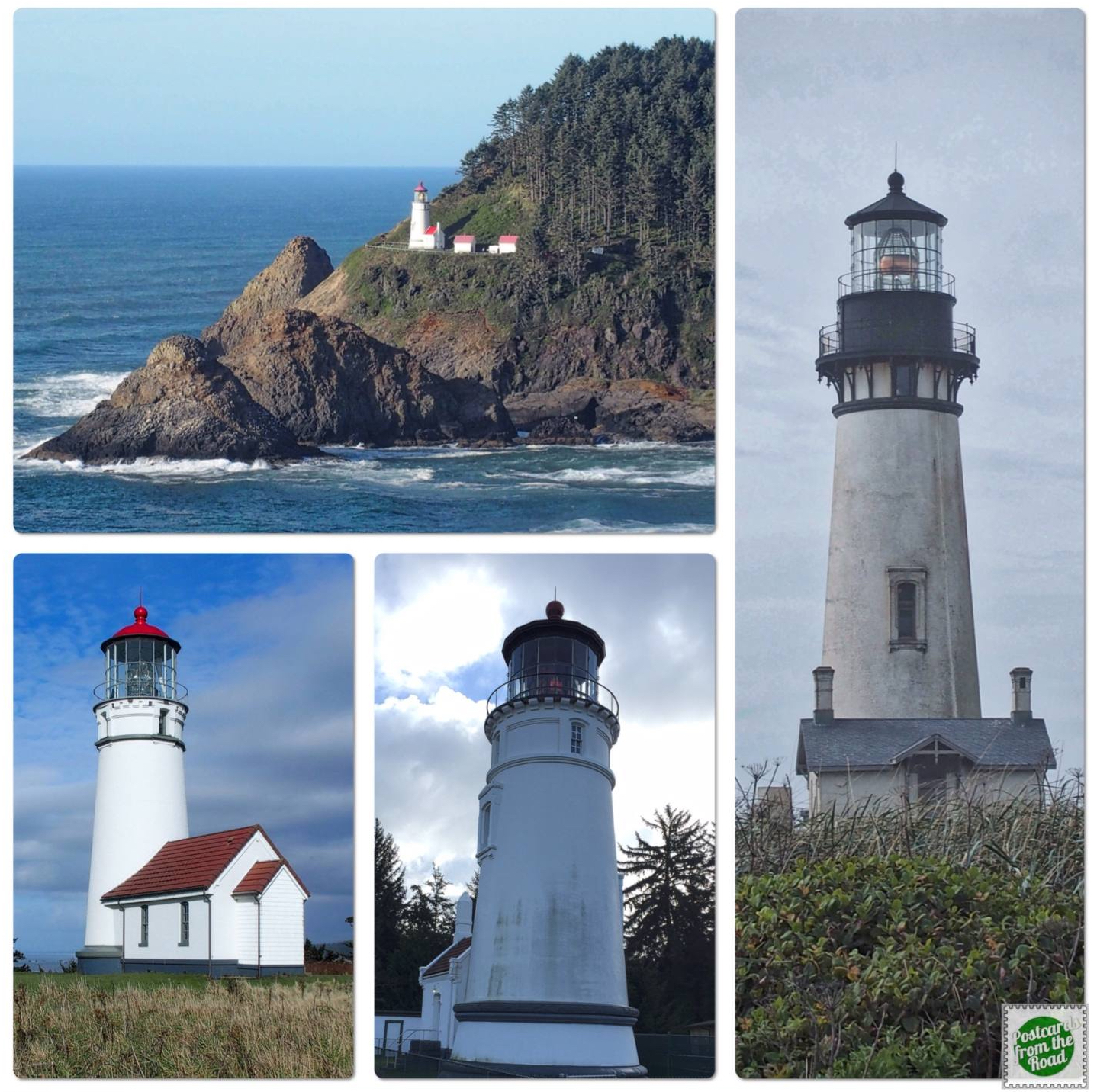 We visited four of the nine lighthouses on the Oregon coast that are open to the public. The lighthouses in the picture, starting in the upper left-hand corner and going clockwise, are Heceta Head, Yaquina Head, Umpqua River, and Cape Blanco.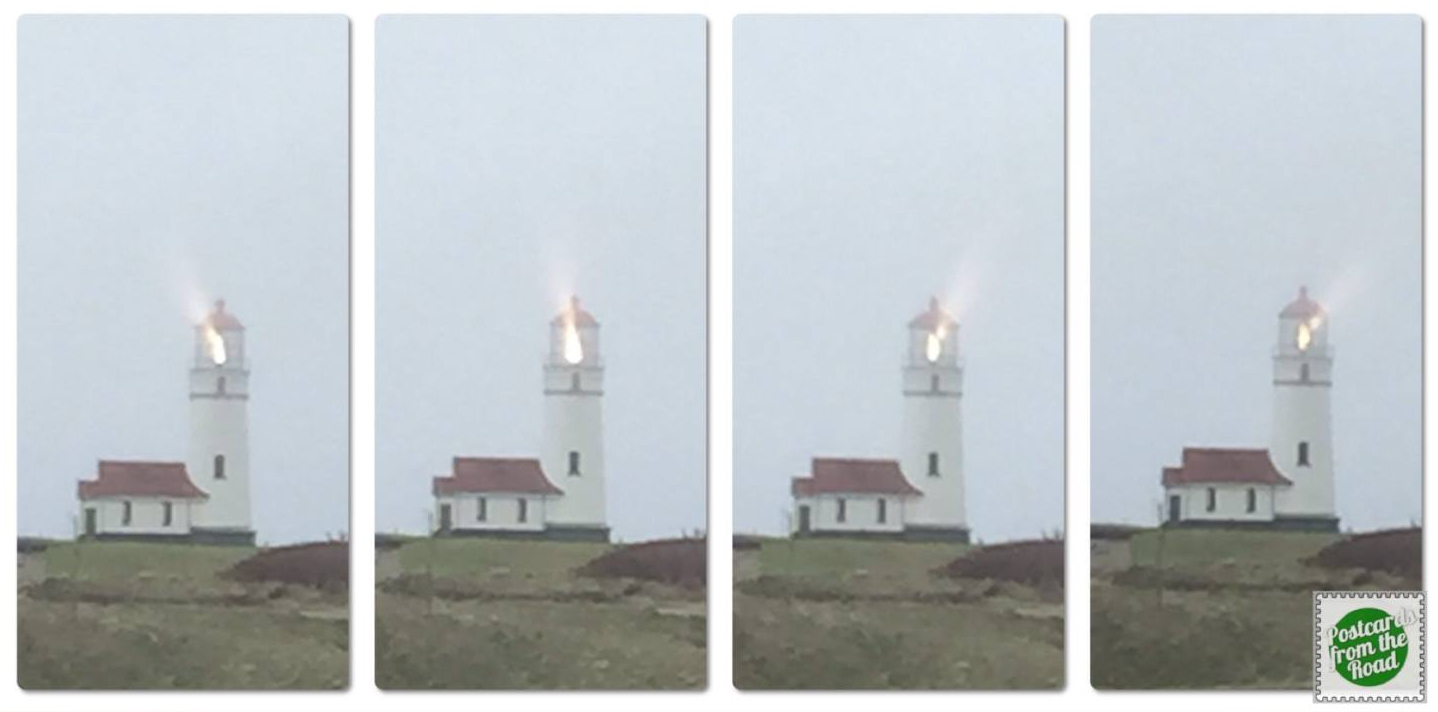 *Cape Blanco lighthouse on a rainy & foggy day.
Rainy Day Walk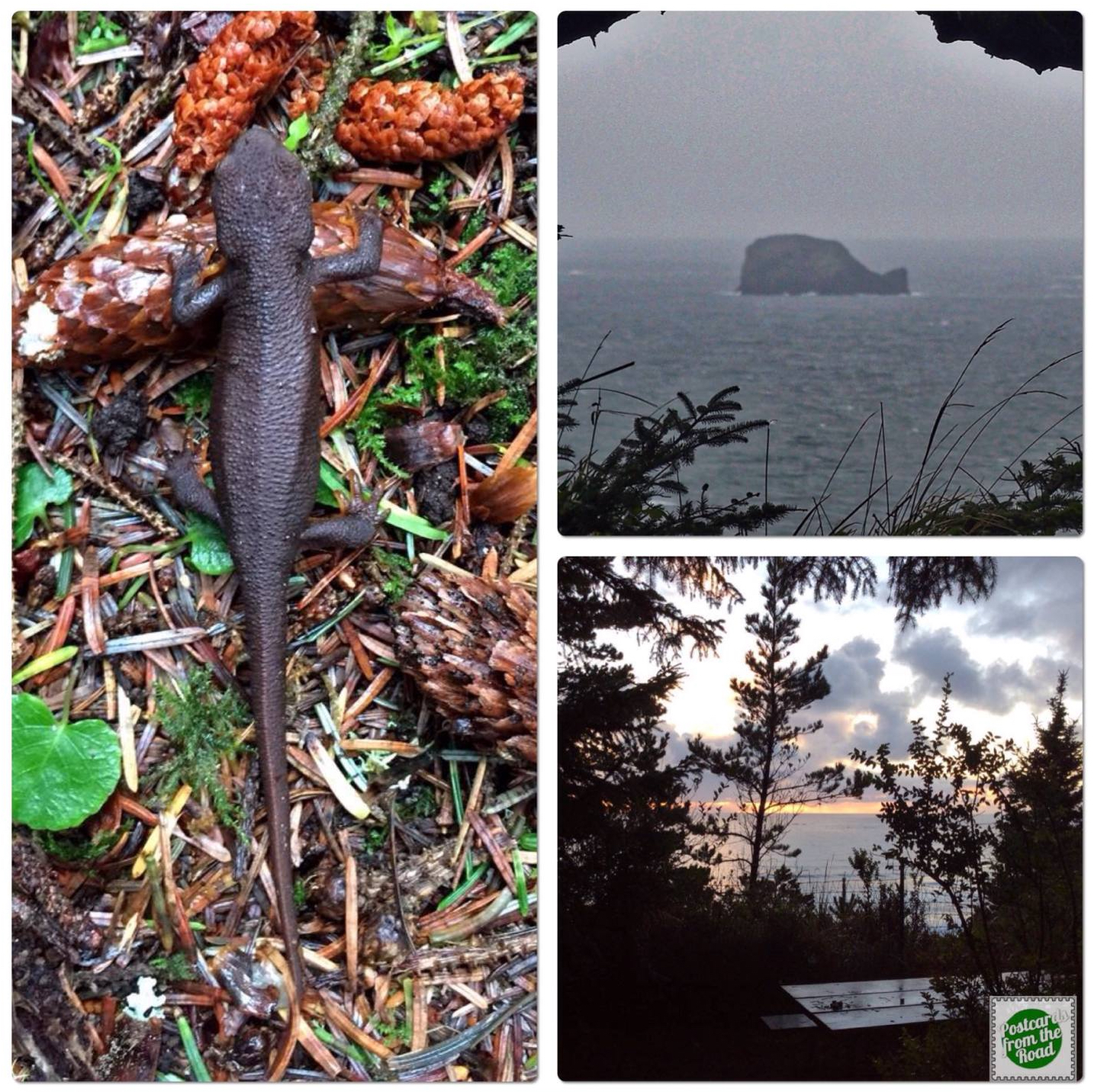 An Interesting walk today from our campsite. We broke out the rain gear to hike the trails from the campground at Cape Blanco State Park. Our site is in the trees. About 100-150 feet down the hill is a picnic table overlooking the ocean. In this area, you would hardly know the wind was blowing. On a bluff about 100 yards further down the trail, the wind was about 45 mph, and the rain was sideways. Then you could take a few steps back into the trees, and you could hardly feel the wind. This was the case in several places as we made our way. It is amazing how dense the trees are and how dark it gets in some areas.
While walking the trails, we saw quite of few rough-skinned newts. We had to be careful not to step on them as they didn't move very fast. They have a very bright orange underside but aren't very cooperative when photographing their bottom side. Their skin glands produce toxins that are particularly potent if eaten.
The real treat was that we saw a whale. We think his name was Moby ;-)
Rainy Day Project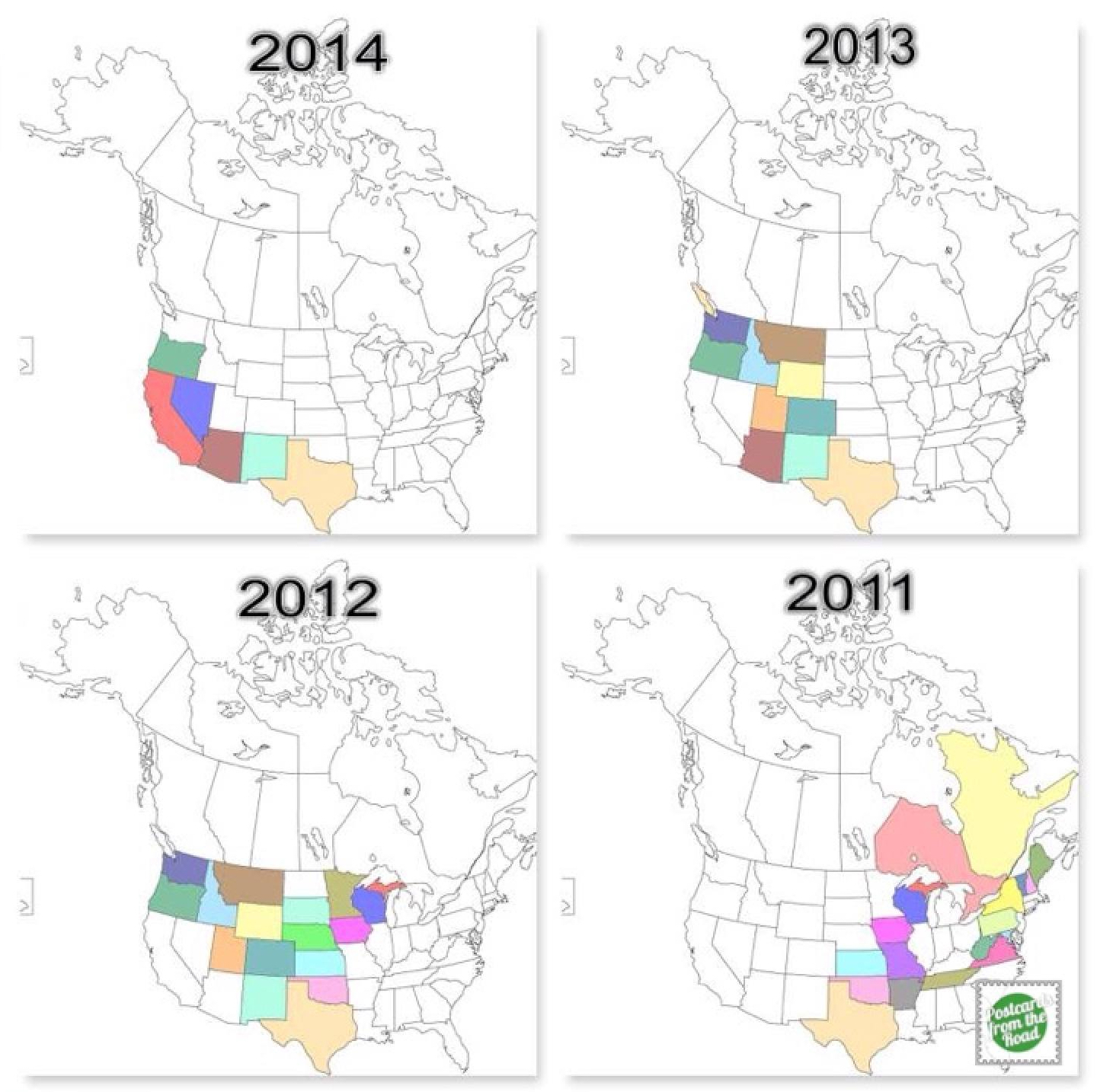 What does one do on a rainy day sitting in an RV? How about getting the Crayolas out and coloring maps. Of course, trying very hard to stay in the lines. These maps represent the states and provinces we visited while RVing on our main trips.
We find it interesting that each trip's time span gets longer & we visit fewer states: 2011 - 3 1/2 weeks; 2012 - almost 3 months; 2013 - 3 months; 2014 - close to 9 months & counting.
It looks like North Dakota was left out in 2012. Before our goals got derailed this summer was to take US Hwy 2 east from Washington, which would have included North Dakota this year. Now our plan has switched to "get back to the southwest mode" for the winter.
---
All submitted comments are subject to approval. Comments date format is: day/month/year.
---